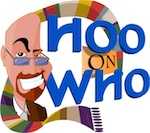 The Sonic Newsdriver, a podcast delivering selected Doctor Who related news stories to you sonically. This podcast had previously been previewed on the Doctor Who: Podshock feed is now on its own feed. Here are the episodes for the week of the 20th of April 2009
It has it's own feed, see below for links to it and to subscribe via iTunes.
If you are already subscribed, you will automatically receive this episode via the the feed. If not, you can download it here using the link below:
-> Sonic Newsdriver - Episode 20090422 (22 April 2009, MP3 format, 5.1 MB (running time 11:05)) (details)
Visit sonicnewsdriver.com or arttrap.com for detailed episode descriptions.
Catch Episode 8 of the Hoo on Who podcast where Louis Trapani joins host David Hooie to review the DVD release of Vengeance on Varos as well as the origins of the Gallifreyan Embassy and Doctor Who: Podshock. Get the scoop and details on it here in Louis' post: Vengeance on Hoo on Who.
See below for further details on this new podcast including the feed URL address, iTunes subscription, feedback email address, etc..
>> Subscribe to The Sonic Newsdriver preview feed via iTunes
>> The Sonic Newsdriver Podcast Preview Feed
Feedback is welcomed at feedback at sonicnewsdriver dot com (you know how to do it!)