The2ndDoctor's blog
---
This is the cover for the new Doctor Who game "Return to Earth" being released for the nintendo Wii, the apparent release date is 29th of October 2010 in the UK and is apparently already for pre-order on Play.com. To this another game is also being released for the DS and is titled Evacuation Earth both developed by Asylum Entertainment.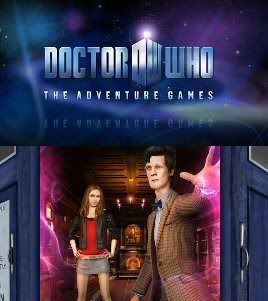 The third instalment of the Doctor Who: Adventure Game , computer game series that's been free to download to and install to UK residents has been announced.
This time the game takes entirely place in the TARDIS it's self and we get to see the hinted at many rooms of the TARDIS. Steven Moffat has told the official DW website
Ok, OK! so it's not a TV episode, but it's something I've been wanting after realising we've had every other combination of numbers of Doctors up to five, but not four. I would have written earlier about this but there was one FACT that was unclear. Yes it's free to subscribers but! which Doctor Who ranges would be included? and as far as I can make out it's the Monthly Doctor Who Range subscribers who get this little gem in their fists.
Big Finish has done this on a regular basis last year saw the release "An Earthly Child" a 8th Doctor and Susan tale, but unlike that release, Big Finish has said as of going to press that this adventure would never be released other than to Subscribers. Now I see three points here 1.) Big Finish would make an absolute wad of cash if they eventually released this for general sale. 2.) That they must make enough that they can "AFFORD" to do this, but in fact this is very nice present to their subscribers if it remains so. 3.) Internet piracy, maybe at some point this is going to end up on a torrent site. Great for those who don't want to subscribe but bad for Big Finish, as they may have lawyers but I doubt they have the clout of the BIG Music labels, and I personally would rather see the money going into Big Finish's pockets because this is quite literately how future productions are funded.
So after watching this DVD a couple of times a quick review. Of course I should be the one to tell you about this release, Patrick Troughton's 2nd Doctor being my favourite Doctor despite being born in the Time of Pertwee. This Story see's the Doctor land the Tardis on the Planet of Dulkis for a Vacation, on an Island that the Doctor has forgotten to check for Radiation. Meanwhile the Dominators have landed on the Island and are preparing a site for drilling supported by the Robotic Quarks.
Doctor Who at the Proms 2, will take place on the 24 and 25 of July at the Royal Albert Hall full details from the BBC to follow at the end of this article. This time it will be presented by Matt Smith and Karen Gillan and Arthur Darvill.
And so to the Details.
This is the Sight that greets you when you go to Mr. Steven Moffats Twitter page, yes the Great Moff is now on twitter. Just overnight his followers went up from 849 as I started following him to the Current amount of 3197. If you don't want to have any insite into Who production until the Confidential is broadcast I suggest that you don't follow him. For those of you who do then he is @steven_moffat or you can go to http://twitter.com/steven_moffat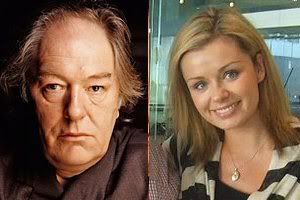 The BBC has confirmed veteran actor Michael Gambon and opera diva Katherine Jenkins will guest star in the 2010 Doctor Who Christmas special. Production starts today and will continue until August.
Michael Gambon, known for many roles all over Television and film, and mostly known lately for playing Dumbledore in four of the six Harry Potter films available, after original actor Richard Harris passed on.
So after what seems like an eternity and for some peculiar reason as to why the figures could not be released( The Official Viewing FIgures were with held by BARB on the BBC's request.) the final viewing figures for the "Big Bang" are available.
6.12 Million People Watched the Big Bang officially on BBC 1. with 0.72 Million watching the Repeat on BBC 3. as of yet I am unable to find the BBC HD numbers.
For anyone visiting San Diego comi-con on Can purchase this exclusive covered Torchwood Nr. 1 from Titan Comics from their stand #5537. And if you would like it Autographed then pop along to room AA20 in Autograph Alley, where Tommy Lee Edwards will be available for autographs from 11:00 am to 12:30 pm on Saturday the 24th of July.