The2ndDoctor's blog
---
On Monday night on BBC Midlands during a regional Programme called "Inside Out" there was a Nine minute piece on Delia Derbyshires life, and how she came to do what she did. Earlier this year on Radio 4 there was a longer hour long Programme called "Mistress of Sound" That I suppose most people unfortunately missed. Which was more in depth about her music and also her part in Electronic Pioneers "White Noise"
Despite it's length this report was comprehensive enough to give you the basics and a never before heard sound clip. Delia describing what influenced her the most. But enough from me enjoy the report it's self below.
So after me thinking I've ad nothing to blog for a long time comes this.
So the final line up for the Revisitations boxed set is laid down. In an interview with podcast Radio Free Skaro, Steven Shapanski asked Dan Hall about two releases that I've previously reported on here. First is "The Day of the Daleks" which was the teaser trailer that I reported on in my blog here. Day of the Daleks, will be it's own release and not part of the Revisitations boxed set as I previously reported, and with all in all should not be expected until the end of 2011 beginning of 2012. Which left of course the question open, what would be the Third disk in the Boxed set Revisitations 2? The answer came as somewhat of a shock and moan from my self. The Seeds of Death, was the answer, granted the original 2 disk release left one wondering as to why there was a second disk at all. But Dan Hall revealed that Seeds of Death should have been a singular disk release. The other two disks will remain as reported "The Carnival of Monsters" and "Resurrection of the Daleks"
In DWM Steven Moffat has his own page at the beginning of the magazine called "Production Notes" well in DWM 426 (That's the Cybermen Special and it's why I own it!) Steven goes into explaining the series split and there are a few thing which come to the fore.
1.) Dear Steven even isn't sure even at this time, as to how the series will be numbered in the future, seeing as he's called the series 1, 5, 11, 31 and Fnarg by his own admittance. Fnarg being my personal favourite.
2.) Spoilers or not, so if you don't like possible spoilers skip the first paragraph that Steven has written.
and....
Further to a piece of E-mail Louis, Ken and James received in Doctor Who: Podshock 224, where the Author bemoaned having to pay the BBC licence fee. And we all know how James is a great champion for the BBC, well here's another.
Mitch Benn is well known in his own right as a Comical Singer Songwriter, and is part of the BBC Radio 4 "The Now Show!" with Steve Punt and High Dennis. Put everything (He could think of, including Blakes 7 and Tripods so that should keep ken happy, and yes Doctor Who does get a mention!) down in to one song. He himself would probably say it's not everything that the BBC has done or does but, for us Doctor Who fans the Show gets the most mentions in the song. Mitch Benn being another vocal fan.
Further to the Restoration Team's little tease I put up on Thursday/Friday last week, the reveal.
It's a totally revamped version of Day of The Daleks. OK as far as I can remember it's only on VHS so far, but the revamp comes not only with the special effects of modern Dalek zapping, which can be seen in the trailer. But Mr. Dalek AKA Nick Briggs re-does the voices for this release. There also comes the news that at least on the European side of the Atlantic that Day of the Daleks will be part of the Revisitations Boxed Set Nr. 2.
The other DVD's should be Carnival of monsters and Resurrection of the Daleks, which is again another one I already have in my collection. With Carnival it's not so bad I looked at the lack of extra's and picked it up on iTunes.
A release date has not yet been set. The trailer from Classic DW from Twitter (the official Restoration Team Twitter handle) and the DWO site can be seen below.
So this started off as a rumour on Friday, and according at least to BBC America is going to happen.
A collaboration between the BBC and BBC America sees a filming block taking part in the US, Utah to be a little more specific, according to press, the Doctor, Amy, Rory and River land in Utah, more than that I shall not reveal because it gets into major spoiler territory. Only I do have a BBC America clip for you.
Late last night/early this morning the Doctor Who restoration team dropped a teaser on Twitter, for an announcement on Saturday. By the looks of it there are going to be more "Special Editions" and by the style of writing another Dalek one at that. see the trailer below and decide for yourself.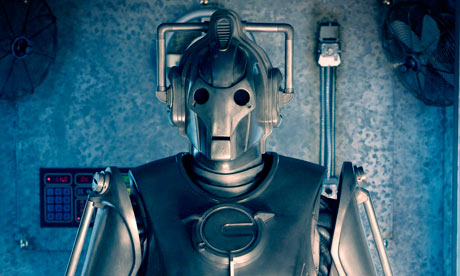 I'm sorry to have to anounce that the performance of Doctor Who Live scheduled for the Glasgow SECC on 14th October has been cancelled, for what is described as logistical reasons.
Ticket holders should contact the box office which is offering refunds or seats at alternative performances during the run.
Below is the official BBC press release for Sarah Jane Series four.
The Sarah Jane Adventures returns to CBBC with a host of guest stars, amazing monsters, and a visit from the Doctor
Alien investigator, Sarah Jane Smith, is back on CBBC with a fourth series of The Sarah Jane Adventures from Monday 11 October.