daveac's blog
---
I've signed up!
Get Extra Content by Becoming a Podshock Supporting Subscriber!
Now you can support our podcast and at the same time get extra content made available for Supporting Subscribers!
When you become a Supporting Subscriber, you will have access to special extra shows for Supporting Subscribers, discount offers, giveaways, and other special benefits.
http://www.gallifreyanembassy.org/vortex/?q=podshocksupporter
Cheers, daveac
Just a newspaper report on the Hyde Fundraisers Doctor Who Charity event that I posted a couple of YouTube videos on (dac100) and pictures at dac100 PhotoBucket.
Save to see full size:-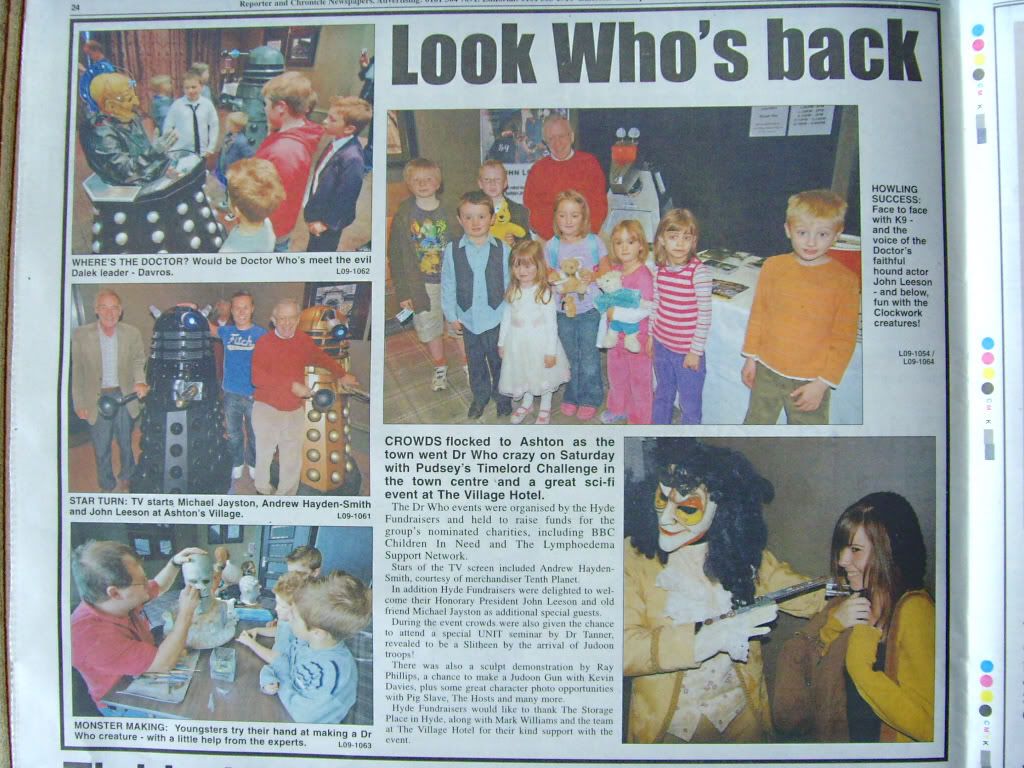 Cheers, daveac
Posting this as a 'blog' entry after tweeting with Louis - rather than in the Forums.
Checkout Tom Baker's New Official website:-
And whilst I have your attention - please check my dac100 YouTube site for a few Whooverville video clips. Sorry to say the sound is not that good.
http://www.youtube.com/user/dac100
Cheers, daveac
The Cultdom Collective Podcast Talkshoe ID 54821 with daveac and Ian, The 6th Doctor, is now on iTunes - subscribe - http://tinyurl.com/nvgkxb
Cheers, daveac
We are coming 4! The Cultdom Collective Podcast starts Sunday 2nd August 2009 on Talkshoe ID 54821 with daveac and Ian, The Sixth Doctor.
Cheers, daveac and Ian
daveac vblog 052 is up on blip.tv
I won't normally 'blog' on this page about individual vblog episodes - the links are elsewhere on this blog - but since I've reached 1 full year of vblogging I though a post here would be nice.
'One small vblog for a man, one giant entertainment for mankind'
I've now been doing these vblogs for 1 year! Blimey!
Slightly dis-organised as I've been watching the British Open Golf :-)
Doctor Who included - 'Revelation of the Daleks' DVD
The wine thie week - Millstone Shiraz 2008 14% Western Cape (South Africa)
To Subscribe to the iTunes version:-
Cheers, daveac
Hello Folks
Well the decision has been made, the podcast is called……
The Cultdom Collective
What does all this mean I hear you ask… oh you didn't… well I'll tell you anyway
There is a structure to this Kingdom we are building, as you may have noticed there are
several different appearances around the Internet, Our Blog, Twitter, Facebook, and of course the Podcast.
Dave and I Decided to create separate names for these and they are as follows:
Go to The Cultdom Chroniles Blog to continue reading please... http://cultdom.com/
Cheers, Dave Ian
Help - my daveac YouTube site 'dac100' has been taken over by Aliens!
'We are Coming' is the message! They will land on Talkshoe on Sunday 2nd August at 3.30 pm EDT - their call ID is 54821
I'm determined to be there to see what they have to say - I hope you will too!
Their video signal was captured and can be watched here!
Cheers, daveac
Well here's my first 'Gallifrey blog' as I've been fairly busy.
As many of you who listen to the CIA podcast Ian 'The Sixth Doctor' and I have decided that after quite a few months of keeping CIA going - without really being able to push it forward - we are going to start our own podcast on Talkshoe.
Since I came up with the term we are going with the name Cultdom for this Talkshoe podcast - Talkshoe ID 54821
We will still run on Sunday (for some parts of the world early Monday) but at a later time of 3.30PM EDT.
This is so that we are clear of Podchock LIVE when it is up and running during Doctor Who Series 5 and also means that CIA under West can continue - should he so choose.
After chatting Ian and I decided to carry on with CIA upto and including Episode 100 (this is after a slight re-numbering that cleared out 0 minute shows.)