Blogs
---
So after all the big newspaper ranting that Doctor Who is unpopular in the UK, the official Viewing figures have been released by BARB.
8.86 Million people watched the episode with an Audience appreciation Index of 88 and it was the 6th most watched programme in the week. Now as far as fans are concerned the last bit is the one that counts. The competition are Soap Opera's and reality shows who in all fairness have multiple episodes in a week. It's going to be another week wefore we know what the final figures for "Day of the Moon" are.
Thanks to all those who participated in our live over the net Doctor Who: Podshock recording on Sunday, May 1st reviewing 'The Impossible Astronaut' and 'Day of the Moon.' We had a good turn out. Remember to try to get in the queue early for live feedback and as always, we will give preference to supporting subscribers. This episode should be hitting the feeds soon. Special thanks to Dave Cooper @daveac and Graeme Sheridan @The2ndDoctor for co-hosting the show with me.
Next Sunday is another holiday which means there will be no live show then, but we will return on Sunday, May 15th when we will record two live shows. One reviewing 'The Curse of the Black Spot' and another reviewing 'The Doctor's Wife.' We will be on a weekly schedule onwards through June 5th (unless there is a change in the broadcast schedule of Doctor Who. We hope you will join us then.
In the meantime while DWP 244 is in post production, there was a new episode of The Sonic Newsdriver released. See link below.
Sonic Newsdriver (30 April 2011) - Doctor Who News -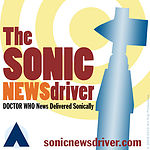 The Sonic Newsdriver 20110430
Selected Doctor Who related news delivered sonically.
For Earth-date: Saturday, the 30th of Apr. 2011
In this episode: Another Great Loss in the Doctor Who Community, It's a Miracle… Day, Another Prequel - but it's not, Jack is Back, Royal Shomyal, Doctor Who Breaks BBC America Records, Don't You Forget About Me, Doctor Who on Crackle, and more!
Plus a special bonus episode included in the podcast companion app only.
Today marks one week since the unbelievable news broke that we lost Elisabeth Sladen (Sarah Jane Smith) to cancer. The BBC had dedicated this past Saturday's transmission of Doctor Who: The Impossible Astronaut (the premiere episode of the new 2011 series) to her and afterwards there was a 12 minute piece on CBBC titled, My Sarah Jane: A Tribute to Elisabeth Sladen which if you saw it, I'm sure it didn't leave you with a dry eye. In it, many of her co-stars spoke about their time working with her including David Tennant and Matt Smith. The day after she passed, another Doctor actor had his say as well.
Tom Baker, the 4th Doctor in Doctor Who shares some of his memories and feelings after the passing of co-star, Elisabeth Sladen last week.
Tom Baker Newsletter | Latest news | Lis Sladen | Sarah Jane: "Sarah Jane dead?  No, impossible!  Impossible.  Only last week I agreed to do six new audio adventures with her for Big Finish Productions.
Date: Sunday, May 1st 2011
Time: 3:00pm - 7:00pm
Location: Eleanor Rigby's
133 Mineola Blvd, Mineola, NY
The Gallifreyan Embassy meet up returns to Eleanor Rigby's 133 Mineola Blvd. in Mineola, New York. Admission is free. Food and drink is available for purchase. Classic and new series episodes will be screened. Light mayhem may occur! Plus we pay tribute to Elisabeth Sladen and Nicholas Courtney. Ken Deep is your host.
---
DVR Alert:
Karen Gillan (Amy Pond) is one of the guests tonight on The Late Late Show with Craig Ferguson. This is the episode she recorded last week (as mentioned in Doctor Who: Podshock 243). The show is on at 12:37am (technically Saturday) EDT, check your local listings in your area for show times in your area.
Late Late Show - This Week's Guests - CBS.com: "Friday, April 22: Diane Lane, Karen Gillan"

(Via www.cbs.com)

Photo: © 2010 @LouisTrapani
And with one day to go BBCA releases a Fourth Doctor Who Insider. Minor spoilers, and very Teasing.