Blogs
---
As previously reported, there is a new Doctor Who iOS game, Doctor Who: The Mazes of Time. It is now in the Apple App Store as of today. There are two versions, one is for the iPhone and iPod touch, and an HD version for the iPad. Unfortunately, it is not a universal app, so you can either get the iPhone/iPod touch version and upscale it for the iPad, or alternatively get the HD version specifically for the iPad.
The prices in the US App store are currently $3.99 and $4.99 NOW ONLY 99¢ each.
Here is the link to the iPhone/iPod touch version: Doctor Who: The Mazes of Time - BBC Worldwide
Here is the link to the iPad HD version: Doctor Who: The Mazes of Time HD - BBC Worldwide
A screenshot for the iPhone/iPod touch version
This Week In Doctor Who – December 13, 2010
Section A
By Benjamin F Elliott
Welcome to the weekly guide to Doctor Who and spinoffs. Sarah Jane, K9, and the PBS Doctor Who broadcasts are in Section B. Torchwood schedules are in Torchwood This Week.
Doctor Who: A Christmas Carol
Christmas Day:
UK - BBC One/BBC One HD – 6PM GMT
USA – BBC America – 9PM, Midnight, 3AM EST/6PM, 9PM, Midnight PST – unedited version
26 December:
AUSTRALIA – ABC1 – 7:30PM
UK – BBC Three – 7PM GMT
Canada – SPACE – 9PM EST/6PM PST – probably repeats as well, but schedule not up at press time
27 December:
UK – BBC HD – 8PM GMT
1 January:
USA – BBC America – 8PM, 11PM, 2AM EST/5PM, 8PM, 11PM PST – 1 hour slot, so presumably a bad 46 minute edit
3 January:
UK – BBC One/BBC One HD – 4:10PM GMT – unconfirmed, but should be A Christmas Carol based on repeat run
Still to be announced – New Zealand premiere date
The latest episode of The Sonic Newsdriver has been released. Be warned, there is some singing in it. Sorry. It is sonic after all. As always, it contains selected Doctor Who related news for you to digest sonically. Short and sweet, just like a Jelly Baby -- only sonic.
Enjoy.
Sonic Newsdriver (10 December 2010) -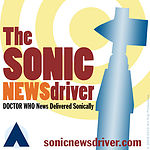 The Sonic Newsdriver 20101210
Selected Doctor Who related news delivered sonically.
For Earth-date: Friday, the 10th of Dec. 2010
Happy Birthday Doctor Who-sein, Doctor Who Get Smart and Lancaster, BBC iPlayer? There's an App for That!, If Adventure Has Name..., We Have a Date for Christmas... Again, The Mazes Are Landing Soon, It's All About Triumph of Intellect and Romance over Brute Force and Cynicism, Doctor Who in 3D?, and more!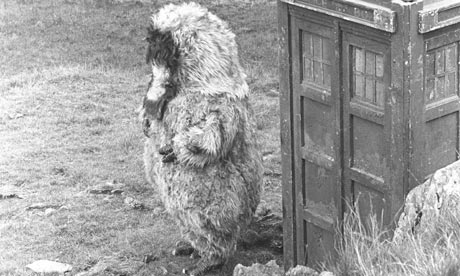 Mervyn Haisman, has died of heart failure aged 82. He with co-creator, Henry Lincoln, was responsible for the creation of the Yeti and the Quarks in the Patrick Troughton stories, The Abominable Snowmen and The Web of Fear in Season 5. Plus The Dominators in Season 6. He also worked on Doctor Findlay's casebook, The Onedin LIne as well as Howards way, all for the BBC. He was also responsible for scripting Hammer Horror's, The Curse of the Crimson Altar.
Even though we are still a couple weeks away from the airing of Doctor Who: A Christmas Carol (coming to BBC (6pm) and BBC America (9pm) on the 25th of December), we already have a release date for the special on Blu-ray and DVD.
Just in time for Gallifrey 22, the special is slated for release on the 15th of February. So much for giving it as a Valentine's Day gift. Along with the special, the accompanying 'Doctor Who: Confidential' on it and 'Doctor Who at the Proms 2010' will be included as bonus material.
We can also assume that the special will be available on iTunes the day after it is shown on BBC America, so figure on it being there on Boxing Day.
If you are a long time listener of Doctor Who: Podshock, you may recall segments by Joe Corallo ( @JoeCorallo ) some years ago. He mostly reviewed audio dramas such as the Cybermen story, Spare Parts by Big Finish. You may have met him at our recent 25th Anniversary Event for the Gallifreyan Embassy last month (see photo to left of him with Daphne Ashbrook).
If you enjoyed our discussion on the ins and outs of building your own TARDIS (Police Box) in Doctor Who: Podshock 230 with special guests, the crew from The Happiness Patrol podcast, check out the latest episode of their podcast (The Happiness Patrol 47) in which I was invited on to talk about another Doctor Who icon, scarves!
Read my recent blog entry on ATP about it:
Come On, Get Happy! I'm on The Happiness Patrol! -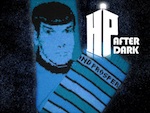 For what feels like for the longest time, we have been trying to get Lewis Bailey to join us on an episode Doctor Who: Podshock. Lewis does a podcast called The Happiness Patrol @TheHPatrol along with Dale Who @FishCustard2010 , Tara Wheeler @TARDIS_Tara (who you may also know as a Corespondent for Doctor Who: Podshock), and Lela Sandstrom @LelaSandstrom, due to scheduling reasons it never worked out. He has been also trying to get me on The Happiness Patrol as well for a while and for the same reason, it hadn't worked. Although we had Lewis on an episode in a recorded segment at the Doctor Who: Podshock 5th Anniversary Event we held last August as well on an episode from Gallifrey 21 last February in Los Angeles at our Meet & Greet Event there, this is the first time we have him on our show in a studio setting for Doctor Who: Podshock - Episode 230 along with Dale, Tara, and Lela. Not only is The Happiness Patrol in the latest episode of DWP, but I am in the latest episode of The Happiness Patrol as well!