Blogs
---
It seems that not only 8th Doctor wants a costume change, Matt Smith (the 11th Doctor) is reported stating that he would like some changes in his costume. Specifically, a warmer coat, perhaps in addition to his tweed jacket.
As for a hat, he said he wanted a hat back in April when he was in New York for the premiere of the 2010 series of Doctor Who. So this comes as no surprise. We already know that fezzes are cool.
Television - News - Matt Smith wants 'Who' outfit changes - Digital Spy: "'I know I want a coat,' he said. 'You get cold in only a tweed jacket. And I want a hat. Not all the time. Just now and again. It feels Doctory and right for my Doctor. I think it can evolve and give it that variety.'
BBC Radio 4 continues to deliver aural gifts to us, license fee be damned!
"Playing the Dane" is a reflection on different interpretations of Hamlet narrated by the amazing Michael Sheen (fleetingly quoting Richard Griffiths' "I shall never play the Dane!," much to my unending delight!), with comments from actors as diverse as David Tennant, Derek Jacobi and John Simm. And people who were never Timelords, like Kenneth Branagh and Jonathan Pryce.
Speak the speech I pray you!
So the final line up for the Revisitations boxed set is laid down. In an interview with podcast Radio Free Skaro, Steven Shapanski asked Dan Hall about two releases that I've previously reported on here. First is "The Day of the Daleks" which was the teaser trailer that I reported on in my blog here. Day of the Daleks, will be it's own release and not part of the Revisitations boxed set as I previously reported, and with all in all should not be expected until the end of 2011 beginning of 2012. Which left of course the question open, what would be the Third disk in the Boxed set Revisitations 2? The answer came as somewhat of a shock and moan from my self. The Seeds of Death, was the answer, granted the original 2 disk release left one wondering as to why there was a second disk at all. But Dan Hall revealed that Seeds of Death should have been a singular disk release. The other two disks will remain as reported "The Carnival of Monsters" and "Resurrection of the Daleks"
Sonic Newsdriver (16 October 2010) -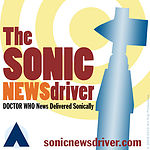 The Sonic Newsdriver 20101016
Selected Doctor Who related news delivered sonically.
For Earth-date: Saturday, the 16th of Oct. 2010

A double length show featuring breaking news of Gallifrey 22 with special guest Shaun Lyon of the Gallifrey One conventions, plus talkin' about my regeneration, don't cross the streams, born in the USA, Tennant trending, what's wrong with my voice, gossiping Gaiman, heard it was your birthday, hello? hello?, Wiiiii have a date, Who is watching you?, NYCC tops 95000, Party with Daphne Ashbrook, and more!
In DWM Steven Moffat has his own page at the beginning of the magazine called "Production Notes" well in DWM 426 (That's the Cybermen Special and it's why I own it!) Steven goes into explaining the series split and there are a few thing which come to the fore.
1.) Dear Steven even isn't sure even at this time, as to how the series will be numbered in the future, seeing as he's called the series 1, 5, 11, 31 and Fnarg by his own admittance. Fnarg being my personal favourite.
2.) Spoilers or not, so if you don't like possible spoilers skip the first paragraph that Steven has written.
and....
Further to a piece of E-mail Louis, Ken and James received in Doctor Who: Podshock 224, where the Author bemoaned having to pay the BBC licence fee. And we all know how James is a great champion for the BBC, well here's another.
Mitch Benn is well known in his own right as a Comical Singer Songwriter, and is part of the BBC Radio 4 "The Now Show!" with Steve Punt and High Dennis. Put everything (He could think of, including Blakes 7 and Tripods so that should keep ken happy, and yes Doctor Who does get a mention!) down in to one song. He himself would probably say it's not everything that the BBC has done or does but, for us Doctor Who fans the Show gets the most mentions in the song. Mitch Benn being another vocal fan.
Further to the Restoration Team's little tease I put up on Thursday/Friday last week, the reveal.
It's a totally revamped version of Day of The Daleks. OK as far as I can remember it's only on VHS so far, but the revamp comes not only with the special effects of modern Dalek zapping, which can be seen in the trailer. But Mr. Dalek AKA Nick Briggs re-does the voices for this release. There also comes the news that at least on the European side of the Atlantic that Day of the Daleks will be part of the Revisitations Boxed Set Nr. 2.
The other DVD's should be Carnival of monsters and Resurrection of the Daleks, which is again another one I already have in my collection. With Carnival it's not so bad I looked at the lack of extra's and picked it up on iTunes.
A release date has not yet been set. The trailer from Classic DW from Twitter (the official Restoration Team Twitter handle) and the DWO site can be seen below.
So this started off as a rumour on Friday, and according at least to BBC America is going to happen.
A collaboration between the BBC and BBC America sees a filming block taking part in the US, Utah to be a little more specific, according to press, the Doctor, Amy, Rory and River land in Utah, more than that I shall not reveal because it gets into major spoiler territory. Only I do have a BBC America clip for you.