Blogs
---
This Week In Doctor Who and Torchwood This Week will not be producing a July 31 issue due to technical and travel issues. TWIDW and TTW will be back on August 7th. For most stations (particularly stations who made the information available), you should be able to extrapolate the Doctor Who and spinoff shows' schedules out to then from the July 24th edition.
July 31 would have been an interesting edition, since as far as I can determine, no countries on Earth were going to premiere new episodes of anything in the Doctor Who universes in the next week - we've all gone into repeats for the moment. But there were some developments of interest that I want to pass on:
So after watching this DVD a couple of times a quick review. Of course I should be the one to tell you about this release, Patrick Troughton's 2nd Doctor being my favourite Doctor despite being born in the Time of Pertwee. This Story see's the Doctor land the Tardis on the Planet of Dulkis for a Vacation, on an Island that the Doctor has forgotten to check for Radiation. Meanwhile the Dominators have landed on the Island and are preparing a site for drilling supported by the Robotic Quarks.
One of our LA Correspondents (I can't say which just now) give me word early Monday morning of this article in the LA Times concerning the release of the Blu-ray and DVD of the latest series of Doctor Who (starring Matt Smith). We always suspected it would be November as that has been traditionally the release month of the series box sets in the past, just in time for the holiday shopping season. According to this article by from the LA Times, that date will be November 9, 2010.
In addition, they will include extra content shot for this release.
The date was 23 April 2009. The Telegraph runs the following story about Gillian Anderson being cast as The Rani in Doctor Who (see link and quote below). Since that time we have seen a year of specials starring David Tennant and a whole new series starring Matt Smith. Where's Gillian Anderson? We are still waiting...
Doctor Who at the Proms 2, will take place on the 24 and 25 of July at the Royal Albert Hall full details from the BBC to follow at the end of this article. This time it will be presented by Matt Smith and Karen Gillan and Arthur Darvill.
And so to the Details.
The folks at CTV and SPACE have asked me to pass along details of this upcoming event to our readers:
"On Saturday, July 24 at 9 p.m. ET, the smash-hit first season of the regenerated DOCTOR WHO is checking out with a bang with the season's final episode, "The Big Bang." Immediately following the finale, SPACE celebrates the show's record-breaking run with a special edition of INNERSPACE at 10:10 p.m. ET. Broadcasting live in front of a studio audience from SPACE headquarters in Toronto, this one-hour special is hosted by INNERSPACE host and genre expert Teddy Wilson and features an expert panel, never seen before interviews and a live web chat.
What: InnerSPACE LIVE: Doctor Who - season finale and aftershow!
When: Saturday July 24th from 9pm - 11pm (audience to arrive by 8:15pm)
Where: CTV Headquarters, 299 Queen St. West, Toronto, Ontario
This is the Sight that greets you when you go to Mr. Steven Moffats Twitter page, yes the Great Moff is now on twitter. Just overnight his followers went up from 849 as I started following him to the Current amount of 3197. If you don't want to have any insite into Who production until the Confidential is broadcast I suggest that you don't follow him. For those of you who do then he is @steven_moffat or you can go to http://twitter.com/steven_moffat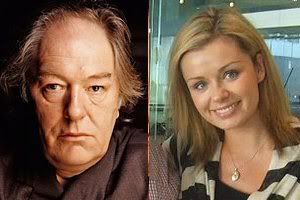 The BBC has confirmed veteran actor Michael Gambon and opera diva Katherine Jenkins will guest star in the 2010 Doctor Who Christmas special. Production starts today and will continue until August.
Michael Gambon, known for many roles all over Television and film, and mostly known lately for playing Dumbledore in four of the six Harry Potter films available, after original actor Richard Harris passed on.