Doctor Who: Podshock
---
Doctor Who: Podshock - The longest running Doctor Who podcast.
As mentioned in Doctor Who: Podshock (as well as here: DW Podshock App for Podshock Supporting Subscribers), if you are a current Podshock Supporting Subscriber, you can get a promo code for a free DW Podshock Podcast Companion App (iTunes link) for the iOS platform (iPhone, iPad, and iPod touch). Up until now, the codes from Apple were valid only in the US.
As of today, the codes can now be redeemed through any App Store around the world. This is great news for our supporters outside of the US.
Quantities are limited. Therefore we are limited to what codes are available to us at any given time. If you are interested in getting the app for free and you are a supporting subscriber, please let us know.
If you are a long time listener of Doctor Who: Podshock, you may recall segments by Joe Corallo ( @JoeCorallo ) some years ago. He mostly reviewed audio dramas such as the Cybermen story, Spare Parts by Big Finish. You may have met him at our recent 25th Anniversary Event for the Gallifreyan Embassy last month (see photo to left of him with Daphne Ashbrook).
"Oh, I see you've been doing the TARDIS up a bit. Hmm, I don't like it."
Doctor Who: Podshock - Episode 230
Running Time: 1:44:00
Part 2 of our Interview with Paul Scoones @paul_scoones (responsible for Doctor Who DVD info text) by Ian Bisset @The6thDoctor , the Inside-Out of Building a TARDIS (Police Box) with Lewis Bailey, Dale Who @FishCustard2010 , Tara Wheeler @TARDIS_Tara , and Lela Sandstrom @LelaSandstrom of The Happiness Patrol @TheHPatrol podcast, Doctor Who news, and more.
Hosted by Louis Trapani ( @LouisTrapani ).
"Grace, I came back to life before your eyes. I held back death."
Doctor Who: Podshock - Episode 229 EXTRA Edition
Running Time: 1:15:48
In this Extra Edition of Doctor Who: Podshock we include our interview and Q&A with Daphne Ashbrook (Grace from the 1996 Doctor Who movie) from last month's 25th anniversary event for the Gallifreyan Embassy.
Hosted by Louis Trapani ( @LouisTrapani ) and Ken Deep ( @kendeep ).
For those that follow me on Twitter probably know I had been fighting off some nasty bug shortly after the GE anniversary event, then came the Thanksgiving Day holiday here in the US... Long story short, it delayed production of all shows coming from ATP including Doctor Who: Podshock of course. Fear not though, there will be new episodes coming down the vortex soon starting with a DWP Extra show for supporting subscribers. We will try to step up production to catch up on the last couple weeks.
First up is a new episode of The Sonic Newsdriver. Available on The Sonic Newsdriver feed and on the Sonic Newsdriver Podcast App for the iPhone / iPod touch. See details below.
"One day I shall come back. Yes, I shall come back."
Doctor Who: Podshock - Aftershock 20101119
Running Time: 0:08:55
A brief Aftershock episode announcing our Doctor Who 47th Anniversary Party and Meet Up on Second Life this Saturday, the 20th of November, 2010.
Hosted by Louis Trapani ( @LouisTrapani ).
"Waiting for this mysterious scientific advisor of yours to turn up?"
Doctor Who: Podshock - Episode 228
Running Time: 1:43:01
Part 1 of our Interview with Paul Scoones @paul_scoones (responsible for Doctor Who DVD info text) by Ian Bisset @The6thDoctor , Amy Krell @amykrell joins us with her new segment, 'Amy's Choice', Anthony S Burdge @MythicDocWho interviews long time Gallifreyan Embassy member Tim Grogan @whoviangrande on Doctor Who fandom in the 1980s, feedback, news, and more.
Hosted by Louis Trapani ( @LouisTrapani ), Ken Deep ( @kendeep ), James Naughton ( @JamesNaughton ), and Amy Krell ( @amykrell ).
In case you missed my tweets earlier about it, there is a nice write up about the 25th anniversary event for the Gallifreyan Embassy in the Mineola Patch:
Gallifreyan Embassy Celebrates 25 Years in Mineola - Mineola, NY Patch:

"Straight from another world, the Gallifreyan Embassy will celebrate its 25th anniversary at Eleanor Rigby's in Mineola on Nov. 16.

The Gallifreyan Embassy is the home of 'Doctor Who: Podshock,' an internet podcast dedicated to all things 'Doctor Who,' the British sci-fi TV show about a time-traveling alien and his human companion. Podshock host Louis Trapani said Doctor Who actress Daphne Ashbrook will be the featured guest. "

(Via Mineola Patch)
Update: The latest Sonic Newsdriver is finally available (see below). It had encountered some delays which now has also delayed the next Doctor Who: Podshock currently in post-production. Hopefully, DWP 228 will be out on or before Tuesday. After that, there should be another Extra Edition DWP for supporting subscribers.
Sonic Newsdriver (14 November 2010) -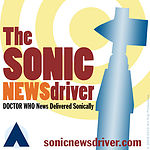 The Sonic Newsdriver 20101114
Selected Doctor Who related news delivered sonically.
For Earth-date: Sunday, the 14th of Nov. 2010
Happy Birthday Number 8, Happy Birthday Number 11, Heeere's Joooohnny, No Matt Smith at Gallifreyan Embassy Anniversary Event, We have a Date for 1996, Happy Anniversary Doctor Who, Talkin about my Regeneration, Let's Return to Earth - in another week, You May be One of Many Children in Need, Isn't That Special, and much more!
[
Art Trap Productions
]
It's that time again when Doctor Who, Torchwood, Sarah Jane Adventures fans come together under one virtual sky at what has become the legendary Doctor Who: Podshock meet ups on Second Life.
The last events we held on Second Life were to celebrate the 25th anniversary of the Gallifreyan Embassy and the 5th anniversary of Doctor Who: Podshock. This time we are coming together to celebrate 47 years of Doctor Who itself! Yes, it is the anniversary of Doctor Who!
Come and join Doctor Who: Podshock hosts, correspondents, friends, and listeners in celebrating 47 years of the longest running science fiction series on television all without leaving the comfort of your home!
There are no secret locations or handshakes needed. No long car or train rides. No worrying about parking or finding a seat. No worrying about what to wear (at least not in the physical sense). No worrying about travel fares, dinner checks, tips, or who paid for the last round. Just kick back in front of your computer with your favourite beverage and/or snack and join other Doctor Who, Torchwood, and alike fans coming together on Second Life. All at no extra cost to you.
It's our summer Second Life meet up taking place on Saturday, 20 November 2010 and what better way to celebrate Doctor Who's anniversary. Come together with other Doctor Who and Torchwood fans no matter where you are geographically located, all you need is broadband internet and a computer capable of running the free Second Life software.
Our seasonal meet ups are a fun and fantastic way to connect with other fans without even leaving the comfort of your own home. Each meet up has been grown larger and larger.