Doctor Who: Podshock
---
Doctor Who: Podshock - The longest running Doctor Who podcast.
Stay on top of your favourite podcast, plus get bonus exclusives with the new DW Podshock Companion App for the iPhone/iPod touch/iPad. It is an inexpensive way to help support the podcast while keeping up with news, podcast episodes, the Twitter feed, and exclusive content available through the app.
It is a universal app, so it runs in native resolution on both the Apple iPhone/iPod touch as well as the iPad. When you launch it, you will see a splash screen featuring the familiar faces of the podcast hosts. From there you can explore news stories, podcast episodes, the latest on our Twitter feed ( @Podshock ), and exclusives just for the app (these are different than DWP Extra Edition episodes).
"Hold on there, old guy, Chang Lee will help you out."
Doctor Who: Podshock - Episode 222
Running Time: 1:50:32
Interview with Yee Jee Tso (Chang Lee in the 1996 movie), Tara Wheeler talks about tracking down David Tennant, Billy Davis files a report from Dragon*Con with Frazer Hines, Doctor Who: The Forgotten Army and Doctor Who: Podshock in New York City, join us for the next 25th anniversary event for the Gallifreyan Embassy, and more. Dedicated to the memory of David Jennings ("Adric Antfarm").
Hosted by Louis Trapani ( @LouisTrapani ), Ken Deep ( @kendeep ), with Tara Wheeler ( @TARDIS_Tara ).
It is with sadness that I am once again talking about the passing of another listener and friend of Doctor Who: Podshock. It was only this past June in which we dedicated Doctor Who: Podshock 207 to the memory of Alexei Kondratiev who had passed away unexpectedly a couple weeks after attending our live show in NYC in May. Today to my surprise and shock I learned of another passing. I didn't know him that well as I have only communicated with him via Twitter and on Second Life. His name is David Jennings, but you may know him as @AdricAntfarm — the name he used on Twitter (and Second Life). In fact he was a regular at our Doctor Who: Podshock meet ups and I was just tweeting with him as recently as last week.
The most recent and last posting on his blog by a good friend of his, Amalia Broom had broken the news today:
"Our lives are different to anybody else's. That's the exciting thing, that nobody in the universe can do what we're doing."
Doctor Who: Podshock - Episode 221
Running Time: 1:25:46
We interview Deborah Watling (Victoria Waterfield) and director Graeme Harper, plus 2011 will bring 2 series of Doctor Who instead of 1 but no Daleks, Sylvester McCoy in The Hobbit, Live coverage from Doctor Who: Podshock's 5th anniversary celebration with Lewis Bailey (The Happiness Patrol Podcast) and Terry Lighfoot (The DirtyWhoers podcast), Gallifrey update and convention reports, Tom Baker returns again as the 4th Doctor, and more.
Hosted by Louis Trapani ( @LouisTrapani ), Ken Deep ( @kendeep ), and James Naughton ( @JamesNaughton ).
(The following has been re-posted from my blog at arttrap.com)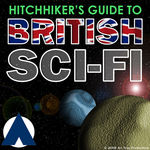 After a long hiatus, Hitchhiker's Guide to British Sci-Fi has returned. Dave Cooper @daveac joins me, Louis Trapani @LouisTrapani as co-host in this episode in which we discuss the new Torchwood series coming to Starz in the US, series 4 of The Sarah Jane Adventures, we invite our younger listeners for their reviews of K9 - The Series, plus we discuss Sherlock, The Deep, Ashes to Ashes, Merlin, and more. It also features part of an interview with Brian Croucher (Travis (2) on Blake's 7) that can be heard in full in Doctor Who: Podshock 219.
For more details, see Episode 8 of Hitchhiker's Guide to British Sci-Fi. If you are subscribing to the podcast, it is already in the feeds, or alternatively, you can download it directly here: Hitchhiker's Guide to British Sci-Fi - Ep. 8 (MP3, 39 MB)
Doctor Who: Podshock - Aftershock 20100903
Running Time: 0:08:23
James Naughton is once again attending Whooverville this year and in this brief Aftershock episode of Doctor Who: Podshock he tells us what to expect.
Hosted by Louis Trapani ( @LouisTrapani ), Ken Deep ( @kendeep ), and James Naughton ( @JamesNaughton ).
We had the pleasure of meeting Karen Gillan (Amy Pond in Doctor Who) this past April (2010) covering the event for Doctor Who: Podshock. Although we were there chiefly to record audio and shot still photos, we did manage to capture some short video of the red carpet interviews (thanks to the iPhone 3GS). This is one.
This is Karen Gillan at the US premiere of Doctor Who (the 1st Matt Smith series) at the Paley Center for Media in NYC speaking of going from her first role in Doctor Who (The Fires of Pompeii) to a full time companion.
Here is Sarah Douglas talking about her role in the Doctor Who Adventure Game as the "blob-like entity" / Professor Meadows in this short video. You may recall we broke the story of Sarah's role in Doctor Who when we interviewed her earlier this year at I-CON. If you didn't catch it, it was Doctor Who: Podshock 189.
DW: Podshock 189At that time she and we were unsure of exactly what her role was going to be, only that it was for an interactive animated story. We had assumed it may have been another BBC "Red Button" interactive Doctor Who episode before learning of the new Doctor Who Adventure Game series.
On a personal note, it was a real delight spending time with Sarah this past spring. We had her on our show when she during the early stage of this video game project, we would love to have back to speak more on it sometime in the future.
"Well a simple "No, thank you" would have been sufficient…"
Doctor Who: Podshock - Episode 219
Running Time: 1:30:54
Brian Croucher of Doctor Who: The Robots of Death and Travis (2) on Blake's 7 interviewed, Daphne Ashbrook Doesn't Need No Doctor, a special adventurous anniversary message from Graeme Sheridan, news, feedback, and more!
Hosted by Louis Trapani ( @LouisTrapani ), Ken Deep ( @kendeep ), and James Naughton ( @JamesNaughton ).
This past Saturday, the 21st of August 2010 was not only our seasonal meet up on Second Life, it also marked the 5th anniversary of the Doctor Who podcast, Doctor Who: Podshock. (We used our last meet up last May to mark the 25th anniversary of the Gallifreyan Embassy).
People from all corners of the world came together to have fun and to meet Doctor Who: Podshock hosts, correspondents, supporters, and other Doctor Who fans. As usual, Victor led the much anticipated TARDIS tours, a staple of our meet ups on Second Life in which he takes a TARDIS load of people to other Doctor Who themed areas of Second Life. This time, he even allowed me to pilot a Jon Pertwee style TARDIS for one trip. It was very exciting indeed.
The TARDIS Tours took us to Who Island which had a replica of Stonehenge with 'underhenge' which we discovered the Pandorica (and it opened)! We also got to see the console room seen in this year's 'The Lodger' episode and as always the tour concluded in the Doctor Who Museum. The virtual museum chronicles all of Doctor Who throughout its long history.