Louis Trapani's blog
---
Many have been asking about Doctor Who: Podshock and our other ATP shows in the wake of the devastation left by Superstorm Sandy. Recovery continues though our shows should be resuming shortly. I posted this latest blog entry about it. See the link below.
Getting Back on Feet After Sandy Devastation -
Sandy Aftermath Day 338: It's been "a year from hell" recovering and restoring from the mass devastation which Superstorm Sandy caused. There's still a great deal more to do, though it's getting closer to where a sense of "normality" will prevail while ongoing recovery work continues. This means our shows will be resuming shortly including Doctor Who: Podshock and perhaps a new one or two as well.
Here's an update on the ongoing storm recovery:
I have a computer workstation setup now for me to record and edit while my place is being gutted out and made inhabitable again. I haven't tested everything out yet, but I suspect I should be able get work done. The biggest roadblock now is carving out the time that is required. Demolition of my place won't start until I clear everything out of it. So after fifty-some-odd days of clearing out waterlogged destroyed belongings and trapped sewage water in my place, now I have to clear out all the rest (the non-damaged stuff) so the floor, walls, ceiling, etc. all have to be gutted out and replaced. This task falls upon me. Since storage space is limited, I also need to take care (and time) to maximaze every inch while packing up. I also need to trash any remaining furniture that may have mold and trash belongings that I no longer want which I have no space for in storage.
I had hoped to have the episode 282 of Doctor Who: Podshock (recorded just prior to Super-storm Sandy) out by now. It is slowly going through post production now, but it is taking longer than I hoped because I am doing so many other things at the same time (relating to recovering from the storm, not to mention my sister being hospitalized).
Thanks for all the concern expressed by all of our listeners... We will return once we are back up and running after the major set back caused by Hurricane Sandy...
On October 29, 2012 we were hit hard by Hurricane Sandy. In addition to not having power, heat, phones, net, etc. for almost two weeks, we were flooded with sewage water. Three and half weeks later, we are still expelling destroyed waterlogged stuff and trapped water from the premises.
By now I will assume you have seen the latest episode of Doctor Who, The Angels Take Manhattan. If you have not, you may want to stop reading this until you have because this piece may spoil the episode for you. So consider this a spoiler alert (insert cloister bells here).
In this next to last episode of the year 2012 we see the Ponds for the last time. Amy (Karen Gillan) and Rory (Arthur Darvill) are doomed to live the rest of their lives in Earth's past without any further visits from the Doctor… Or we are led to believe at least. Though never say "never" in Doctor Who as it has been proven time and time again.
What did you think of their farewell?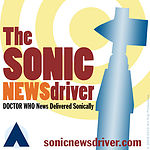 There is a new episode of the Sonic Newsdriver out (see below). It was great getting back to doing an episode again. The show may be a bit regenerated now and going forwards. We will see where things go.
People have been inquiring about the Doctor Who: Podshock live shows reviewing the new episodes of Doctor Who coming starting this Saturday. The live shows will be back! They are normally on the Sunday after the new episode is transmitted. Due to the late announcement and confirmation of the start date of the new 2012 series, there is a scheduling conflict for this Sunday (2 September). Therefore, the live shows will most likely resume on the following Sunday in which we will review the first two episodes of the new 2012 series of Doctor Who. The review shows will once again be recorded live using Talkshoe. We will post an announcement with details soon about it as we usually do here on this site and on Twitter.
If you are like me and do not receive BBC America, you may be pleased to know that their latest Doctor Who related special, The Science of Doctor Who (science in Doctor Who? Who knew?) is available via iTunes for purchase ($2.99).
I haven't seen it yet myself, so I can't comment on the special, though I have heard that not surprisingly it only focuses on post-2005 Doctor Who unfortunately. If you want to find it on iTunes, there's an affiliate link below to it.
Richard E. Grant has been cast in the upcoming 2012 Doctor Who Christmas special. The news came from a tweet from Doctor Who Magazine today. It's interesting to see an official-unofficial past Doctor actor return to the series. You may recall that Richard E. Grant was the original 9th Doctor in the Scream of the Shalka, a story written by Paul Cornell. This animated adventure was produced prior to the television series being relaunched in 2005. We reviewed Scream of the Shalka not too long ago in Doctor Who: Podshock 267. In it, we discussed Richard E. Grant's portrayal of the Doctor and how Scream was the forerunner of Rose. 
I am sadden to report that once again we have lost someone in the Doctor Who community. A month after the news of Caroline John (Liz Shaw) passing, we have lost another actress that played a companion on Doctor Who, Mary Tamm. You will remember her for her role as the original Romana in the Tom Baker era. She introduced us to the Time Lady companion, Romana in 'The Key to Time' series of 1978 to 1979. 
Mary Tamm in 1984
The Mirror reports that she lost her long battle against cancer this morning. She was only 62 years old. 
This is what has become an annual posting here on the 18th of June each year… The Gallifreyan Embassy anniversary. Today marks 27 years since the organization was formed. What can I say that I haven't already said in my previous anniversary postings? Yeah, I can't believe so much time has passed… I believe I had said it before. Perhaps these photos that I took last week on the Long Island Raid Road say it all. We have come a long way since 1985. I never thought then that I would see train posters referencing Doctor Who in them as these do for BBC America.
The first two series of Matt Smith as the Doctor has been recreated in a video simulating an old style (I would say 16-bit) video game running just over 4 minutes long. Be warned, there are spoilers pertaining to the these two series (if you are not up to date).
Thanks to @EoghannIrving for the heads up on this one.