Louis Trapani's blog
---
This video has been in the making for some time now as I have seen various earlier incomplete versions of it over the last few years now I believe. Originally created as a mock trailer by OtaKing77077 (on YouTube) has expanded into a mini-episode. Because it was originally meant only as mock trailer, it lacks some narrative. It is done in the style of 1980's anime featuring 1970's Doctor Who mostly (it is a 3rd Doctor Jon Pertwee story). It features many original voice clips of various characters from the series as well as some original vocal work. Almost every iconic aspect of 1970s and some 1980s Doctor Who is depicted here except K9 perhaps.
For some reason the video had been pulled from YouTube, someone else had posted it again in the above.
Adam Savage @donttrythis of Mythbusters dances in a Faraday cage to the Doctor Who theme played by ArcAttack's Singing Tesla Coils at Makers Faire 2011.
Thanks to @24k for the heads up on this one.
The long wait is over if you have been waiting for The Rebel Flesh to appear on iTunes. This year, the new episodes have been appearing on iTunes within hours of it being broadcast of BBC America, as opposed to last year when it was usually a 24 hour wait. I even made a point of mentioning how fast they are appearing this year in Doctor Who: Podshock 247. So wouldn't you know that this week, they deliberately held back on it just to prove me wrong. Well, perhaps not deliberately. There was some issue though that had held it up.
It is now available now in the wee hours of Tuesday morning. Although it had been listed on Amazon, there were reports that it was not downloading from them. Now that it is available via iTunes, we might assume that the download issue from Amazon has also been resolved.
Below are the links to fetch the episode from the respective provides:
Doctor Who: The Rebel Flesh
This video features Colin Baker narrating the history of the police box in the UK. The shape that the TARDIS has been stuck in since The Unearthly Chid premiered in 1963. This feature was originally transmitted in 1993, part of the 30th anniversary of Doctor Who celebration by the BBC.
Thanks to @tvkirby for bringing this video to my attention.
Thanks to all those who participated in our live over the net Doctor Who: Podshock recording on Sunday, May 1st reviewing 'The Impossible Astronaut' and 'Day of the Moon.' We had a good turn out. Remember to try to get in the queue early for live feedback and as always, we will give preference to supporting subscribers. This episode should be hitting the feeds soon. Special thanks to Dave Cooper @daveac and Graeme Sheridan @The2ndDoctor for co-hosting the show with me.
Next Sunday is another holiday which means there will be no live show then, but we will return on Sunday, May 15th when we will record two live shows. One reviewing 'The Curse of the Black Spot' and another reviewing 'The Doctor's Wife.' We will be on a weekly schedule onwards through June 5th (unless there is a change in the broadcast schedule of Doctor Who. We hope you will join us then.
In the meantime while DWP 244 is in post production, there was a new episode of The Sonic Newsdriver released. See link below.
Sonic Newsdriver (30 April 2011) - Doctor Who News -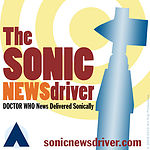 The Sonic Newsdriver 20110430
Selected Doctor Who related news delivered sonically.
For Earth-date: Saturday, the 30th of Apr. 2011
In this episode: Another Great Loss in the Doctor Who Community, It's a Miracle… Day, Another Prequel - but it's not, Jack is Back, Royal Shomyal, Doctor Who Breaks BBC America Records, Don't You Forget About Me, Doctor Who on Crackle, and more!
Plus a special bonus episode included in the podcast companion app only.
Today marks one week since the unbelievable news broke that we lost Elisabeth Sladen (Sarah Jane Smith) to cancer. The BBC had dedicated this past Saturday's transmission of Doctor Who: The Impossible Astronaut (the premiere episode of the new 2011 series) to her and afterwards there was a 12 minute piece on CBBC titled, My Sarah Jane: A Tribute to Elisabeth Sladen which if you saw it, I'm sure it didn't leave you with a dry eye. In it, many of her co-stars spoke about their time working with her including David Tennant and Matt Smith. The day after she passed, another Doctor actor had his say as well.
Tom Baker, the 4th Doctor in Doctor Who shares some of his memories and feelings after the passing of co-star, Elisabeth Sladen last week.
Tom Baker Newsletter | Latest news | Lis Sladen | Sarah Jane: "Sarah Jane dead?  No, impossible!  Impossible.  Only last week I agreed to do six new audio adventures with her for Big Finish Productions.
DVR Alert:
Karen Gillan (Amy Pond) is one of the guests tonight on The Late Late Show with Craig Ferguson. This is the episode she recorded last week (as mentioned in Doctor Who: Podshock 243). The show is on at 12:37am (technically Saturday) EDT, check your local listings in your area for show times in your area.
Late Late Show - This Week's Guests - CBS.com: "Friday, April 22: Diane Lane, Karen Gillan"

(Via www.cbs.com)

Photo: © 2010 @LouisTrapani
Elisabeth Sladen (Sarah Jane Smith of Doctor Who and The Sarah Jane Adventures) has died at the age of 63 I am so sad to report…
I was stunned and dismayed when read the news of passing of Elisabeth Sladen today from a tweet from Gallifrey One. I am at a lost for words. This news came to me very unexpected as I am sure it does for all Doctor Who and Sarah Jane Adventures fans. I don't know what to say at this point. Writer Paul Cornell and actress Nicola Bryant have also confirmed the news by tweeting their sentiments as well. BBC News has also confirmed it in a short statement (now a full obituary).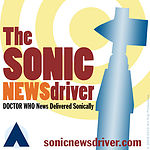 We are a week out from the launch of the new 2011 series of Doctor Who. I don't where the time goes. It's here again. Being that the next Sunday after next Saturday's premiere is a holiday, the first live over-the-net show reviewing the new Doctor Who episodes of Doctor Who: Podshock will be on the following Sunday, May 1st. We may or may not be using Talkshoe again. I am exploring other options if anyone has any to offer. Stay tuned here for forthcoming details.
But before next Saturday comes, this Saturday (April 16, 2011), or for some already, today, I will be speaking on a panel at I-CON 30 from 3pm to 4pm (EDT) (in room 111 in the Javits Lecture Hall at SUNY, Stony Brook, NY). The panel is titled, '21st Century Doctor Who.' Ken Deep of Doctor Who: Podshock will also be on the panel. The panel is being organized by Docking Bay 516 for I-CON. So if you are attending I-CON this year, be sure to attend this panel.
In the meantime, the latest episode of The Sonic Newsdriver is available. Along with the usual Doctor Who related news, it features a 'live' interview with Anthony S Burdge @MythicDocWho while he was in line for the special premiere showing of the first two episodes of the new series in NYC which took place on Monday, April 11th.
Speaking of The Sonic Newsdriver, the companion app for the podcast is already available in the Apple iTunes App Store for iOS devices (App Store link) and on AppBrain for Android devices, it is now also in the Amazon Appstore for Android devices. See details here.
Fans of Family Guy will appreciate this second episode of Doctor Stew. Now with more Doctors…
Created by Cecinid (Kevin Karstens) @doctorstew