BBCAmerica's "Mars" Numbers in The Guardian
---
Doctor Who achieves record US audience
The Waters of Mars watched by 1.1 million viewers on BBC America – the channel's biggest prime-time audience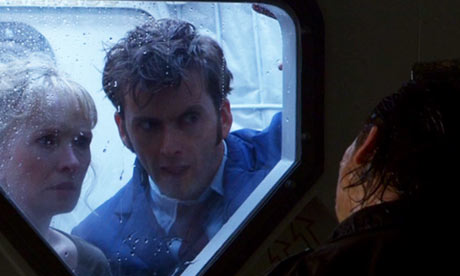 Doctor Who has achieved a record prime-time audience for BBCAmerica as viewers prepare to say goodbye to David Tennant in the title role.
The Waters of Mars, which aired on BBC1 last month, had 1.1 million viewers on BBC America on Saturday 19 December.
It is the first of three Doctor Who specials airing on Saturday nights on BBC America, culminating with Tennant's farewell show on 2 January.
The programme has a cult following in the US but attempts to reach a wider audience with the 1996 TV movie starring Paul McGann, which broadcast on the Fox network, failed.
"The final specials starring David Tennant have opened the door for new audiences to this iconic series while taking longtime fans on an incredible journey," said Richard De Croce, senior vice-president of programming for BBC America.
"Tennant's remaining two specials, The End of Time, part one and part two, are the most anticipated episodes in the history of the series – which is why we're airing them just a day after their UK premiere."
The End of Time, written by executive producer and lead writer Russell T Davies, will guest star John Simm, Timothy Dalton, Catherine Tate and Bernard Cribbins. Tennant will regenerate as his successor in the role, Matt Smith.