Now more than ever, we need your support! Become a Supporting Subscriber today.
The Sonic Newsdriver is Back and Not a Moment Too Soon
---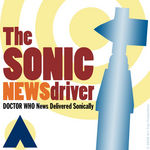 The Sonic Newsdriver 20100116
Selected Doctor Who related news delivered sonically.
For Earth-date: Saturday, the 16th of Jan. 2010
A Rose by Any Other Name, A Rose by the Name of Betty, Ch-Ch-Ch-Changes, End of Time Records for iPlayer, Way To Go Sister, Loose Scripts - Sink Ships, Scary Monsters - Super Creeps - Keep David Tennant Running Scared, and more.
Hosted by Louis Trapani
Right click and download the episode using the link below or listen right on the website using the embedded player, better yet subscribe to the podcast using the feed links below the player.