Now more than ever, we need your support! Become a Supporting Subscriber today.
Sonic Newsdriver for Thursday, the 21st of January 2010
---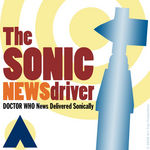 The Sonic Newsdriver 20100121
Selected Doctor Who related news delivered sonically.
For Earth-date: Thursday, the 21st of Jan. 2010
Carrying the Torch for the US, Help Wanted at The Sarah Jane Adventures, And The Awards Go To, David Tennant is Out of 'Burke and Hare', Colin Baker on David Tennant's Leaving, Mum's the Word, Addressing the Dress, and more.
Hosted by Louis Trapani
Right click and download the episode using the link below or listen right on the website using the embedded player, better yet subscribe to the podcast using the feed links below the player.