Now more than ever, we need your support! Become a Supporting Subscriber today.
Sonicly Yours, The Sonic Newsdriver for the 17th of March
---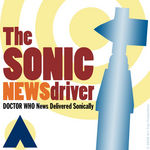 The Sonic Newsdriver 20100317
Selected Doctor Who related news delivered sonically.
For Earth-date: Wednesday, the 17th of Mar. 2010
BBC America Tails Behind BBC One by Two Weeks, Gallifrey 21 Two Weeks Out (DVD news), BBC Secures 40% of 2entertain, Double Your Pleasure, Double Your Fun with The Sarah Jane Adventures, Doctor Who on Tour, You Rock (Ken Ray of Mac OS Ken) and more.
Hosted by Louis Trapani
Right click and download the episode using the link below or listen right on the website using the embedded player, better yet subscribe to the podcast using the feed links below the player.