Star Trek 2009 Kirk Glass
---
I recently placed this up for auction on eBay. If you are interested, hurry the auction ends June 01, 2010 20:24:53 PDT.
Bid on it here: http://item.ebay.com/110538168862

Star Trek 2009 'Kirk' Glass * NEW * Sealed *
Never used or opened 'Kirk' Burger King Glass from the 2009 'Star Trek' movie.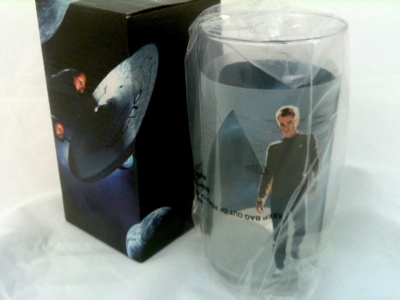 Boldly go where no glass has gone before... Well, almost... There were Star Trek glasses before, but never for this 2009 reboot/reset movie. This is an unopened (taken out of the box for the first time for these photographs), still sealed in the plastic bag it was sold in from Burger King in 2009. This is the new 'Kirk' glass which also features the new 'Enterprise' on it as well. A great collectable or drinking glass.

Comes complete with the original box.

Shipping via USPS (well packed to ensure safe shipping).
PayPal Accepted (major credit cards accepted via PayPal). This is the only glass on hand, therefore no exchanges can be offered.

Don't let this glass slip through your fingers. Start beaming… err… bidding today!
See more photos and bid on it here: http://item.ebay.com/110538168862