Now more than ever, we need your support! Become a Supporting Subscriber today.
Breaking News on Gallifrey 22 and More Doctor Who Related News in The Sonic Newsdriver (16 Oct 2010)
---
Sonic Newsdriver (16 October 2010) -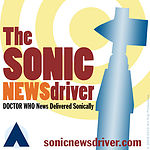 The Sonic Newsdriver 20101016
Selected Doctor Who related news delivered sonically.
For Earth-date: Saturday, the 16th of Oct. 2010

A double length show featuring breaking news of Gallifrey 22 with special guest Shaun Lyon of the Gallifrey One conventions, plus talkin' about my regeneration, don't cross the streams, born in the USA, Tennant trending, what's wrong with my voice, gossiping Gaiman, heard it was your birthday, hello? hello?, Wiiiii have a date, Who is watching you?, NYCC tops 95000, Party with Daphne Ashbrook, and more!

[Art Trap Productions]
Check out the latest edition of The Sonic Newsdriver podcast. Important breaking news concerning Gallifrey 22 in relation to hotel accommodations is covered. Special guest Shaun Lyon of Gallifrey One conventions joins me in it. Plus a whole lot more Doctor Who related news in this super-sized edition.
If you are planning to attend Gallifrey 22 in Los Angeles this February 18-20, be sure hear what Shaun has to say here. Follow the links above to download the episode and find out more about The Sonic Newsdriver or download/listen to the episode with the link below: