My New Costume Revealed in the Latest Sonic Newsdriver
---
The moment you all been waiting for… I reveal my new costume for The Sonic Newsdriver in this latest episode released today. That and other fashion news of the Doctor Who world are covered as well as some non-fashion related DW news.
Sonic Newsdriver (26 October 2010) -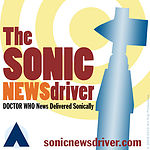 The Sonic Newsdriver 20101026
Selected Doctor Who related news delivered sonically.
For Earth-date: Tuesday, the 26th of Oct. 2010
Doctor Who related news covering Death of the Doctor, Better Late Than Never, It May Be A Mystery To You, We Will Rock Children in Need, Happy Anniversary Frazer, Fashion - Turn to the Left, Fashion - Turn to the Right, and much more!
The Doctor is in fashion in this week's adventure on The Sarah Jane Adventures, 'Death of the Doctor.' I'm sure we will be discussing this story on Doctor Who: Podshock soon. I'll be including a review of it as well as the other SJA stories of this series within Sonic Newsdriver Podcast App (as bonus content).
Obviously all this talk about fashion relates to Paul McGann debuting his new 8th Doctor costume at the Armageddon Expo this past weekend. Although it is not complete, it reminds me a bit too much of the 9th Doctor's attire. I think he needs at least a big puffy shirt to add a little flair to it.
He's also sporting a new sonic screwdriver which looks a bit like a steampunked version of the current sonic screwdriver. Which is fine, it goes with the whole look of the TARDIS console seen in the 1996 movie. Though, the Doctor had just regenerated in that story. That console and indeed that TARDIS was really the 7th Doctor's, albeit one very different than what he had when we last saw him in 1989. Who is to say that the 8th Doctor kept it that way? But I digress.
Check out the latest Sonic Newsdriver for further thoughts about the 8th Doctor's new threads.