The Latest Sonic Newsdriver is Out for 10 December 2010
---
The latest episode of The Sonic Newsdriver has been released. Be warned, there is some singing in it. Sorry. It is sonic after all. As always, it contains selected Doctor Who related news for you to digest sonically. Short and sweet, just like a Jelly Baby -- only sonic.
Enjoy.
Sonic Newsdriver (10 December 2010) -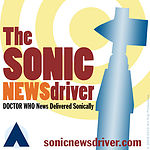 The Sonic Newsdriver 20101210
Selected Doctor Who related news delivered sonically.
For Earth-date: Friday, the 10th of Dec. 2010
Happy Birthday Doctor Who-sein, Doctor Who Get Smart and Lancaster, BBC iPlayer? There's an App for That!, If Adventure Has Name..., We Have a Date for Christmas... Again, The Mazes Are Landing Soon, It's All About Triumph of Intellect and Romance over Brute Force and Cynicism, Doctor Who in 3D?, and more!
[
Art Trap Productions
]