Now more than ever, we need your support! Become a Supporting Subscriber today.
The Latest Sonic Newsdriver (Doctor Who News) for 6th of January 2011 is Available
---
There are a couple new Doctor Who: Podshock episodes on their way (coming soon), in the meantime the latest episode of The Sonic Newsdriver will feed your hunger for Doctor Who related news.
Sonic Newsdriver (06 January 2011) - Doctor Who News -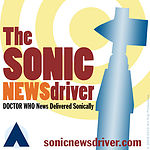 The Sonic Newsdriver 20110106
Selected Doctor Who related news delivered sonically.
For Earth-date: Thursday, the 6th of Jan. 2011

In this episode: Besotted, DVR Alert, YouTube Goes Classic, Ambassadors of Restoration, The End of Time Begot A Christmas Carol, Ashes to Ashes - Sherlock to Sherlock - Doctor to Doctor, Torching the US and the UK, Where's the TARDIS, and more!

[Art Trap Productions]
Twitter: @LouisTrapani
http://about.me/louistrapani