Now more than ever, we need your support! Become a Supporting Subscriber today.
New Sonic Newsdriver of Doctor Who Related News is Out, Doctor Who: Podshock Episodes on the Way
---
We have a bunch of new Doctor Who: Podshock episodes on the way which will be coming to you soon, including our live show recorded at Gallifrey One 2011. In the meanwhile, catch up on Doctor Who related news delivered sonically with the latest episode of The Sonic Newsdriver!
Sonic Newsdriver (07 March 2011) - Doctor Who News -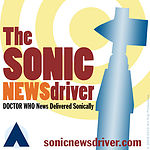 The Sonic Newsdriver 20110307
Selected Doctor Who related news delivered sonically.
For Earth-date: Monday, the 7th of Mar. 2011
In this episode: Five Rounds Rapid in Memory of Nicholas Courtney, James Corden is Back, Who are you gonna call?, Massive Man - Massive, iPlayer for less than $10 a month, and more!
[
Art Trap Productions
]