Get Sonic and Iconized - A New Sonic Newsdriver and an I-CON Doctor Who Panel
---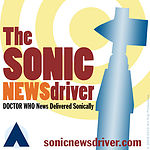 We are a week out from the launch of the new 2011 series of Doctor Who. I don't where the time goes. It's here again. Being that the next Sunday after next Saturday's premiere is a holiday, the first live over-the-net show reviewing the new Doctor Who episodes of Doctor Who: Podshock will be on the following Sunday, May 1st. We may or may not be using Talkshoe again. I am exploring other options if anyone has any to offer. Stay tuned here for forthcoming details.
But before next Saturday comes, this Saturday (April 16, 2011), or for some already, today, I will be speaking on a panel at I-CON 30 from 3pm to 4pm (EDT) (in room 111 in the Javits Lecture Hall at SUNY, Stony Brook, NY). The panel is titled, '21st Century Doctor Who.' Ken Deep of Doctor Who: Podshock will also be on the panel. The panel is being organized by Docking Bay 516 for I-CON. So if you are attending I-CON this year, be sure to attend this panel.
In the meantime, the latest episode of The Sonic Newsdriver is available. Along with the usual Doctor Who related news, it features a 'live' interview with Anthony S Burdge @MythicDocWho while he was in line for the special premiere showing of the first two episodes of the new series in NYC which took place on Monday, April 11th.
Speaking of The Sonic Newsdriver, the companion app for the podcast is already available in the Apple iTunes App Store for iOS devices (App Store link) and on AppBrain for Android devices, it is now also in the Amazon Appstore for Android devices. See details here.
You can download or listen to the latest episode using the links below if you are not already subscribing to it.
Sonic Newsdriver (14 April 2011) - Doctor Who News and Happy Birthday, Peter Davison -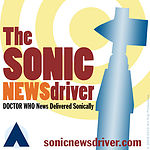 The Sonic Newsdriver 20110414
Selected Doctor Who related news delivered sonically.
For Earth-date: Thursday, the 14th of Apr. 2011
In this episode: Doctor Who is Back in America (live report from Anthony Burdge on line for the DW Preview Screening in NYC), Return of the Cybermen, Better Late Late Than Never, Insider Outsider, The Dark Knights Gets a Burn, Teasers - Previews - Prequels - Oh My!, Birthday Babies and more!
[
Art Trap Productions
]
Twitter: @LouisTrapani
about.me/louistrapani