Peter Halliday Dies Aged 87
---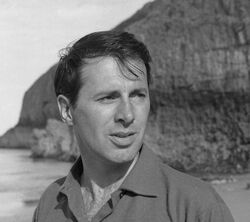 It saddens me to say that we've lost another Doctor Who vetran. Peter Halliday passed way on the 19th of February. It's taken a while for the information to filter out, Peter for most shall be remembered as the unfortunate, violence happy Packer in The Invasion along side Patrick Troughton and Kevin Stoney. But it was not to be his only role, he also did voices for The Silurians and Ambassadors of Death in Jon Pertwee's 1st full Season. Then going on to star as Plectrac in Carnival of Monsters.
Later he appeared along side Tom Baker in the City of Death, as a soldier, and finally along side Sylvester McCoy in Remembrance of the Daleks as the Vicar in the closing moments of Episode 4.
He also appeared in Z Cars, Armchair Theatre and The Citidal, and Dr John Fleming in A for Andromeda, plus it's follow up series The Adromeda Breakthrough. Later also having roles in, The Avengers, The Saint and Dalziel and Pascoe.