Found! - The Doctor and the Enterprise
---
Several months ago when it was announced that a comic book was going to cross the worlds of Doctor Who and Star Trek, it was mentioned that there was a previous crossing of stories. I said I thought it was published back in the mid-80's.
Well, I was partially right. A version did come out in the mid-80's like I said and it was serialized in the fanzine "Enterprise". Here is the image that was the cover of the first issue of "Enterprise":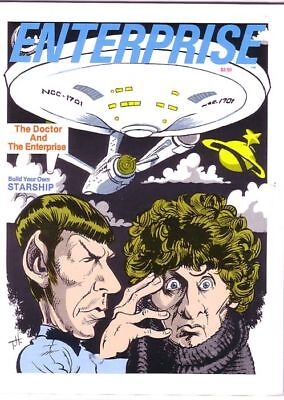 As I thought a few months ago, it did indeed have a picture of Spock mind-melding with the Doctor. However that is not the original version - this was the second edition of the book. The second full edition of the book had the same cover but with a red border and background for the title.
The original version was written in 1979 by Jean Airey and was finished in 1982. A third unauthorized version came out a few years later (1989) and much of the story was changed.
Well now you can find a text version of the original book here:
http://www.spodbox.org/~saphphx/DWST/TheDoctorAndTheEnterprise.htm
and you can find download versions of it here:
http://www.spodbox.org/~saphphx/DWST/
Something from the past - found again.
Enjoy!
_____________________________________________
Since I first posted this I found a more recent version of the book (in PDF form).
IT's the same book but pictures have been added and minor editing of the story is made to it.
You can find it here:
http://captainrobertapril.angelfire.com/The_Doctor_and_the_Enterprise.pdf
Again, Enjoy!!