Enhanced Podcast Features and Tandem With The Random
---
How do you listen to audio podcasts? Are you taking advantage of the features of the enhanced podcast format? In other words, accessing the chapters, embedded images and links? The reason I am asking is because all signs point to the fact that Apple is phasing this format out. Their latest Podcast app doesn't seem to support it. Oh, it will play fine, and it will still sound better than the plain mp3 version, but the aforementioned features are absent. Also their latest version of GarageBand has removed the tools to create those features for enhanced podcasts.
You may had noticed that the recent enhanced episodes of Doctor Who: Podshock, while still have those features, they are less full, less rich in use of these enhanced features. The reason being is that it takes time and work to add those features and if our listeners no longer have access to them, then it doesn't seem to be a worthwhile investment in the post-production workflow.
Please let me know if you are still using these features today. Also if your playback device and/or software support those features.
On a completely different matter, though still relating to podcasts, I was a guest on the 'Tandem with the Random' podcast a short while ago. In case you missed the post about it on the ATP site, here is a link to the posting about it:
Tandem With The Random 027 Celebrating the 50th Anniversary of Doctor Who -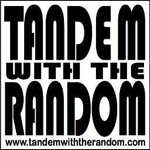 Recently I was a guest on the Tandem with the Random podcast, episode 27 celebrating the 50th anniversary of Doctor Who. It is hosted by Brian Kelley @bktandem and is available now. In it, I speak of first discovering Doctor Who and becoming a fan, founding the Gallifreyan Embassy, and eventually launching the podcast, Doctor Who: Podshock. Thanks to Brian for having me on, it was delight to do. You can check out the podcast yourself, the link is below with further details pertaining to the episode.