Kai Owen Heads Volunteering Drive for Save the Children
---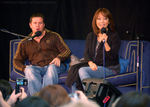 Kai Owen (Rhys Williams on Torchwood) will head up an emergency Wales charity volunteer drive for Save the Children according to a report in Walesonline.co.uk. The charity is looking for emergency workers to raise money when disaster hits such as earthquakes, typhoons, disease outbreaks, etc.
"When an emergency strikes, Save the Children leap into action so they can reach children and families caught up in a disaster as quickly as possible," Kai stated.
"To do this they need help to raise funds and awareness of the emergency and I am confident that the people of Wales will join me to rise to this challenge."
The charity named him as one of their 'superheroes' on Monday.
Kai Owen has gone from saving children in Torchwood: Children of Earth to doing the same off-screen with Save the Children.