Ken's Scarf day 4
---
Today was day two of the Taos Wool Fest. I did actually manage to sit down and knit.
I had a great time, saw lots of lovely animals, bought even more fiber for me to spin.
And knitted about six inches on Ken's Scarf.
But that evening was when the real fun started.
I took Ken's Scarf to a bar!
And not just any bar! I took Ken's Scarf to the Alley Cantina!
I knitted while the lovely Elisabeth Jose sang and the 'Omar-licious' Omar Rane played jazz standards.
I got about five inches knitted in the bar
Now, I should tell you that the Alley Cantina has quite a past.
It's the oldest structure in the town of Taos (the Taos Pueblo is outside the city limits).
At least two walls are around 400 years old.
It's said to be haunted by Kit Carson and Buffalo Bill.
And it was used in the filming of 'Any Which Way But Loose.'
Yep, in those days, it was called 'El Patio'.
If you watch the movie, you'll hear it refered to by that name and you'll see the principal actors (minus Clyde the Orangutang and Sandra Locke) having mexican food at El Patio.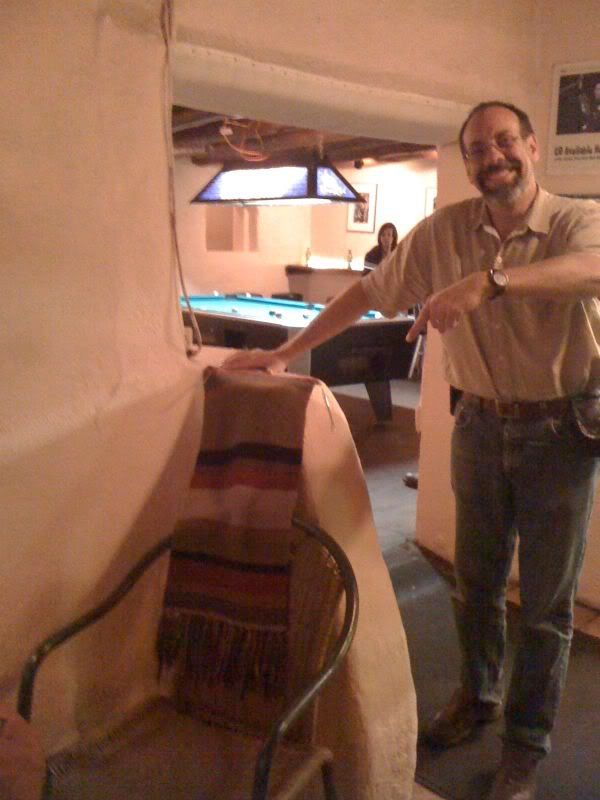 According to local legend, this is Clint Eastwood's Chair.
And our stats for tonight are:
Thirteen hours total knitting time
Five hours knitting time today
16 out of 44 stripes
Eleven inches knited today
Current length: 28.5 inches