Ken's Scarf day 6
---
Today the DH and I got back into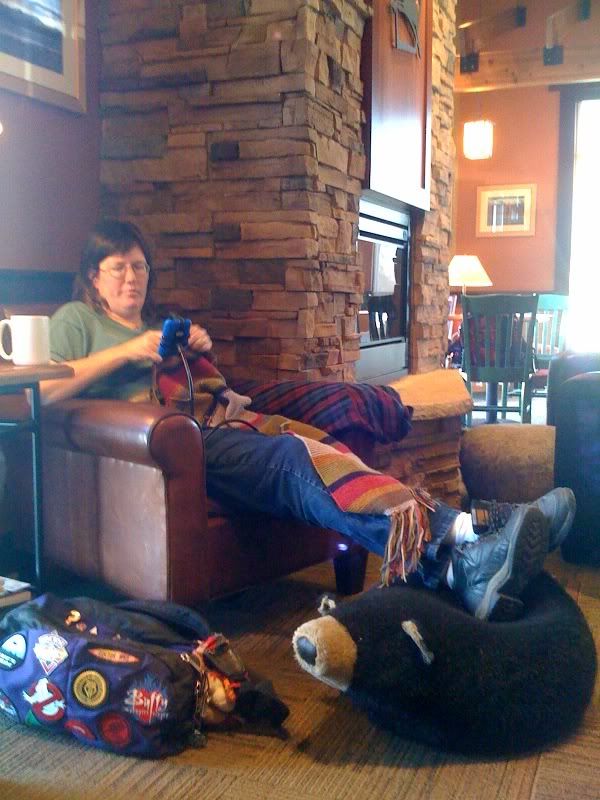 our usual routine.
We went to a local coffee shop so he could write (with some noise and bustle in the background) and I could read and knit.
I got about two and a half hours of knitting done there today, while I read 'Small Favor' by Jim Butcher on my iPhone (the little blue rectangle in front of my hands- being held up by a Naja stand).
I've read this book before, but I'm re-reading it so I can read his new book 'Turn Coat'.
The DH worked on cards for a talk he's giving in Baltimore.
Then we went home and had dinner.
The evening's real entertainment was to go see Toy Story 1&2 in 3D!
Of course I took my knitting and knitted all through Toy Story 1.
But I ran out of yarn and didn't have another skein of red with me.
I finished up that stripe at home.
So, tonight's stats are:
Total Knitting Time: 22 hours
Time Knitting Today: Four hours
Total Length: 54"
Length knitted today: 10.5"
26 out of 44 stripes.
Finished three out of 15 skeins of yarn.