Celebrating Time And Relative Dimensions In Space!
---
Here is the prologue mini adventure from the BBC for the 2012 Doctor Who series, Pond Life. All five parts are included below so you can view them one after the other (each is very short). As the name implies, it focuses around Amy and Rory, but the Doctor is also included in each.
The complete five episodes (or chapters) are below one after the other. UPDATE: Wouldn't you know as this was being posted here, the BBC released an omnibus version of Pond Life as one video of all five parts? They have and now instead of the 5 parts below, here is the complete all-in-one version which runs 5 minutes and 22 seconds: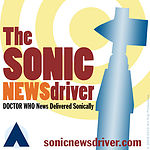 There is a new episode of the Sonic Newsdriver out (see below). It was great getting back to doing an episode again. The show may be a bit regenerated now and going forwards. We will see where things go.
People have been inquiring about the Doctor Who: Podshock live shows reviewing the new episodes of Doctor Who coming starting this Saturday. The live shows will be back! They are normally on the Sunday after the new episode is transmitted. Due to the late announcement and confirmation of the start date of the new 2012 series, there is a scheduling conflict for this Sunday (2 September). Therefore, the live shows will most likely resume on the following Sunday in which we will review the first two episodes of the new 2012 series of Doctor Who. The review shows will once again be recorded live using Talkshoe. We will post an announcement with details soon about it as we usually do here on this site and on Twitter.
US astronaut Neil Armstrong dies, first man on Moon
The BBC released a teaser promo video for the upcoming first episode of the new 2012 series of Doctor Who titled 'Asylum of the Daleks' (coming to BBC One on 1 September 2012).
Doctor Who: Podshock - Episode 276
Running Time: 2:02:42
A classic interview with Mary Tamm (Romana 1), 'The Mythological Dimensions of Neil Gaiman' Editors Anthony S. Burdge and Jessica Burke, plus other Doctor Who related news, feedback (Blue Box Bill, John M, Ruth Kubierschky, Stephen), and more. Hosted by Louis Trapani, Dave Cooper, Ian Bisset, and Taras Hnatyshyn, with Chuck Rabb.
On July 29th Gallifreyan Embassy Contributor Troy Baker posted a list of the Doctor Who specials airing this month This Saturday, August 11th, 2012 9/8c the second of these specials air on BBC America -- The Women of Doctor Who
Here is the description from the BBC America site:
Behind every great time lord there's a great woman. Whether they're busting Daleks or the Doctor's ego, the women of 'Doctor Who' prove that you don't need testosterone to save the universe.
Ok very cool and we know that in the post 2005 series we have Valkyrie type female companions in Rose, Martha, Donna & Amy.
Greetings!
First just a quick note before my news I wish to thank Louis Trapani for allowing my wife (Jessica Burke) and I (Anthony Burdge) to blog here for him and the Gallifreyan Embassy. If you are not familiar with us we are the Editors/Contributors of The Mythological Dimensions of Doctor Who and The Mythological Dimensions of Neil Gaiman both published by Kitsune Books. We have been contributors to Doctor Who Podshock and guests as well. You will be able to hear about our latest book The Mythological Dimensions of Neil Gaiman in an upcoming episode of Podshock.
The BBC's "Doctor Who" website and the BBC's press office have announced that a new special about "Doctor Who" is to air on it's 50th anniverasry on BBC2
Here is the text from BBC's Press Office:
_____________________________________________________________
The BBC today announces that a special BBC TWO drama has been commissioned to mark the 50th anniversary of Doctor Who next year.
An Adventure In Space And Time will tell the story of the genesis of Doctor Who - first broadcast on 23 November 1963. Exploring all aspects of the longest-running science fiction series to date, the special one-off 90-minute drama will also look at the many personalities involved in bringing the series to life.
If you are like me and do not receive BBC America, you may be pleased to know that their latest Doctor Who related special, The Science of Doctor Who (science in Doctor Who? Who knew?) is available via iTunes for purchase ($2.99).
I haven't seen it yet myself, so I can't comment on the special, though I have heard that not surprisingly it only focuses on post-2005 Doctor Who unfortunately. If you want to find it on iTunes, there's an affiliate link below to it.
Richard E. Grant has been cast in the upcoming 2012 Doctor Who Christmas special. The news came from a tweet from Doctor Who Magazine today. It's interesting to see an official-unofficial past Doctor actor return to the series. You may recall that Richard E. Grant was the original 9th Doctor in the Scream of the Shalka, a story written by Paul Cornell. This animated adventure was produced prior to the television series being relaunched in 2005. We reviewed Scream of the Shalka not too long ago in Doctor Who: Podshock 267. In it, we discussed Richard E. Grant's portrayal of the Doctor and how Scream was the forerunner of Rose.