Celebrating Time And Relative Dimensions In Space!
---
The BBC released this on the Doctor Who Website earlier today.
"Contrary to press reports today we can confirm that no new episodes of The Sarah Jane Adventures will be filmed following the tragic death of actress Elisabeth Sladen in April, 2011. As a tribute to Elisabeth the six episodes that were recorded with her last year will be broadcast on CBBC at a date to be confirmed."
There's not much said but interesting all the same.
So after all the big newspaper ranting that Doctor Who is unpopular in the UK, the official Viewing figures have been released by BARB.
8.86 Million people watched the episode with an Audience appreciation Index of 88 and it was the 6th most watched programme in the week. Now as far as fans are concerned the last bit is the one that counts. The competition are Soap Opera's and reality shows who in all fairness have multiple episodes in a week. It's going to be another week wefore we know what the final figures for "Day of the Moon" are.
Doctor Who: Podshock - Episode 244
Running Time: 2:00:41
We review Doctor Who: The Impossible Astronaut and Day of the Moon live over the net with live listener feedback (Mystery Presenter, Russel Hale, Darth Skeptical, Helen Lesser).
Hosted by Louis Trapani ( @LouisTrapani ), Dave Cooper ( @daveac ), and Graeme Sheridan ( @The2ndDoctor )
Thanks to all those who participated in our live over the net Doctor Who: Podshock recording on Sunday, May 1st reviewing 'The Impossible Astronaut' and 'Day of the Moon.' We had a good turn out. Remember to try to get in the queue early for live feedback and as always, we will give preference to supporting subscribers. This episode should be hitting the feeds soon. Special thanks to Dave Cooper @daveac and Graeme Sheridan @The2ndDoctor for co-hosting the show with me.
Next Sunday is another holiday which means there will be no live show then, but we will return on Sunday, May 15th when we will record two live shows. One reviewing 'The Curse of the Black Spot' and another reviewing 'The Doctor's Wife.' We will be on a weekly schedule onwards through June 5th (unless there is a change in the broadcast schedule of Doctor Who. We hope you will join us then.
In the meantime while DWP 244 is in post production, there was a new episode of The Sonic Newsdriver released. See link below.
Sonic Newsdriver (30 April 2011) - Doctor Who News -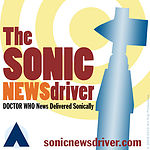 The Sonic Newsdriver 20110430
Selected Doctor Who related news delivered sonically.
For Earth-date: Saturday, the 30th of Apr. 2011
In this episode: Another Great Loss in the Doctor Who Community, It's a Miracle… Day, Another Prequel - but it's not, Jack is Back, Royal Shomyal, Doctor Who Breaks BBC America Records, Don't You Forget About Me, Doctor Who on Crackle, and more!
Plus a special bonus episode included in the podcast companion app only.
Doctor Who: Day of the Moon which was broadcast last night on BBC, BBC America, and Space (in Canada) is now available to purchase and/or rent on iTunes and Amazon.
iTunes Episode: Day of the Moon - Doctor Who, Season 6, Pt. 1
iTunes Season Pass: Doctor Who, Season 6, Pt. 1 - Doctor Who
Amazon Episode: Day of the Moon [HD]
or Day of the Moon [SD]
5 TARDIS Groans
38% (15 votes)
4 TARDIS Groans
38% (15 votes)
3 TARDIS Groans
21% (8 votes)
2 TARDIS Groans
0% (0 votes)
1 TARDIS Groan
0% (0 votes)
0 TARDIS Groans
3% (1 vote)
Total votes: 39
You can see some scenes from the 2011 series of Doctor Who (about 20 seconds into it) as well as Torchwood: Miracle Day (about 47 seconds into it) in this BBC promo video.
Torchwood: Miracle Day premieres on Starz on July 8, 2011 at 10pm E/P.