Celebrating Time And Relative Dimensions In Space!
---
If you took part in our live show or if you listen to Doctor Who: Podshock 232, you will know at the time of our live recording (5pm EST 26 December 2010) that the latest Doctor Who Christmas special, A Christmas Carol still had not shown up on iTunes to purchase or rent.
Since that time, it is now available in the US iTunes store: A Christmas Carol - Doctor Who, The Matt Smith Specials
5 TARDIS Groans
25% (6 votes)
4 TARDIS Groans
58% (14 votes)
3 TARDIS Groans
4% (1 vote)
2 TARDIS Groans
4% (1 vote)
1 TARDIS Groan
4% (1 vote)
0 TARDIS Groans
4% (1 vote)
Total votes: 24
"What's so special about Christmas?"
Doctor Who: Podshock - Episode 232
Running Time: 1:31:30
Doctor Who: A Christmas Carol (the 2010 Doctor Who Christmas special) reviewed, live feedback, and more.
Hosted by Louis Trapani ( @LouisTrapani ) and Dave Cooper ( @daveac ).
Merry Christmas & A Happy New Year!

to all Doctor Who:Podshock listenners, HHGTBSF listenners, The Cultdom Collective Podcast members & listenners & daveac.blip.tv viewers!
Also a BIG 'Thank You' to Louis, Ken & James for all their hard work bringing great Dr Who related podcasts & news updates and not forgetting all the other GE bloggers & correspondents.

Cheers, daveac
"No. What?! Adric, I've given you a privileged insight into the mystery of time, yes?"
Doctor Who: Podshock - Episode 231
Running Time: 0:33:56
A 2010 holiday edition of Doctor Who: Podshock featuring Matthew Waterhouse and an interview with Paul Slocum by Anthony S Burdge, and more.
Hosted by Louis Trapani ( @LouisTrapani ).
A couple other shows to check out while you are waiting for the next Doctor Who: Podshock episode to arrive. (I was trying to get an episode of DWP out tonight, but lack of sleep and it being Christmas Eve now may not make it possible).
The latest episode of The Sonic Newsdriver has been released with select Doctor Who news delivered sonically to you. Last week, Dave Cooper @daveac joined me on the latest episode of Hitchhiker's Guide to British Sci-Fi in which we discuss and review the most recent series of The Sarah Jane Adventures (series 4).
Sonic Newsdriver (23 December 2010) -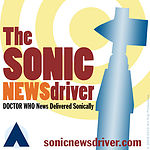 The Sonic Newsdriver 20101223
Selected Doctor Who related news delivered sonically.
For Earth-date: Thursday, the 23rd of Dec. 2010
The Game is Afoot, Bow Ties are Cool - Fezzes are Cool - The Doctor is Cool, Happy Trails to You, Be Careful What You Ask For, Jurassic Doc, Jenkins Almost Said No, Your Android Has Gotten More Sonic, and much more!
The Sonic Newsdriver 20101223 (MP3)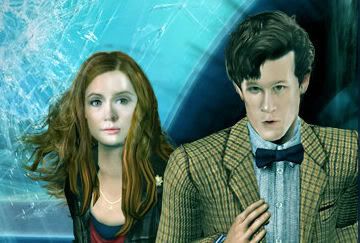 For all you lucky UK bound license fee paying Doctor Who fans. The fourth Doctor Who Adventures game "Shadows of the Vashta Nerada" has just gone live on the BBC official Doctor Who website.
The official blurb reads as such, "So you've learnt to fly the TARDIS and defeat the Cybermen and Daleks. But how will you fare against the fearsome Vashta Nerada? In an underwater base. While being attacked by alien sea monsters. Do you think you're ready?
This will bring a tear to your eye, one way or another.
This Week In Doctor Who – December 20, 2010
Section A
By Benjamin F Elliott
Welcome to the weekly guide to Doctor Who and spinoffs. Sarah Jane, K9, and the PBS Doctor Who broadcasts are in Section B. Torchwood schedules are in Torchwood This Week.
Doctor Who: A Christmas Carol
Christmas Day:
UK - BBC One/BBC One HD – 6PM GMT
USA – BBC America – 9PM, Midnight, 3AM EST/6PM, 9PM, Midnight PST – unedited version
26 December:
AUSTRALIA – ABC1 – 7:30PM
UK – BBC Three – 7PM GMT
Canada – SPACE – 9PM EST/6PM PST – probably repeats as well, but schedule not up at press time
27 December:
UK – BBC HD – 8PM GMT
1 January:
USA – BBC America – 8PM, 11PM, 2AM EST/5PM, 8PM, 11PM PST – 1 hour slot, so presumably a bad 46 minute edit
3 January:
UK – BBC One/BBC One HD – 4:10PM GMT – unconfirmed, but should be A Christmas Carol based on repeat run
Still to be announced – New Zealand premiere date