Celebrating Time And Relative Dimensions In Space!
---
As previously reported, there is a new Doctor Who iOS game, Doctor Who: The Mazes of Time. It is now in the Apple App Store as of today. There are two versions, one is for the iPhone and iPod touch, and an HD version for the iPad. Unfortunately, it is not a universal app, so you can either get the iPhone/iPod touch version and upscale it for the iPad, or alternatively get the HD version specifically for the iPad.
The prices in the US App store are currently $3.99 and $4.99 NOW ONLY 99¢ each.
Here is the link to the iPhone/iPod touch version: Doctor Who: The Mazes of Time - BBC Worldwide
Here is the link to the iPad HD version: Doctor Who: The Mazes of Time HD - BBC Worldwide
A screenshot for the iPhone/iPod touch version
Doctor Who: Podshock will be once again be taking to the net on Boxing Day, Sunday (26 December 2010) for a live-over-the-net show reviewing the latest episode (special) of Doctor Who, A Christmas Carol.
He's back… and it's about time! We return with our live-over-the-net review, this time talking about and reviewing the Doctor Who adventure starring Matt Smith as the Doctor premiering on BBC One and BBC America on the 25th of December, Doctor Who: A Christmas Carol.
This Week In Doctor Who – December 13, 2010
Section A
By Benjamin F Elliott
Welcome to the weekly guide to Doctor Who and spinoffs. Sarah Jane, K9, and the PBS Doctor Who broadcasts are in Section B. Torchwood schedules are in Torchwood This Week.
Doctor Who: A Christmas Carol
Christmas Day:
UK - BBC One/BBC One HD – 6PM GMT
USA – BBC America – 9PM, Midnight, 3AM EST/6PM, 9PM, Midnight PST – unedited version
26 December:
AUSTRALIA – ABC1 – 7:30PM
UK – BBC Three – 7PM GMT
Canada – SPACE – 9PM EST/6PM PST – probably repeats as well, but schedule not up at press time
27 December:
UK – BBC HD – 8PM GMT
1 January:
USA – BBC America – 8PM, 11PM, 2AM EST/5PM, 8PM, 11PM PST – 1 hour slot, so presumably a bad 46 minute edit
3 January:
UK – BBC One/BBC One HD – 4:10PM GMT – unconfirmed, but should be A Christmas Carol based on repeat run
Still to be announced – New Zealand premiere date
The latest episode of The Sonic Newsdriver has been released. Be warned, there is some singing in it. Sorry. It is sonic after all. As always, it contains selected Doctor Who related news for you to digest sonically. Short and sweet, just like a Jelly Baby -- only sonic.
Enjoy.
Sonic Newsdriver (10 December 2010) -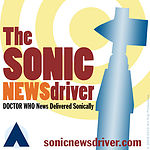 The Sonic Newsdriver 20101210
Selected Doctor Who related news delivered sonically.
For Earth-date: Friday, the 10th of Dec. 2010
Happy Birthday Doctor Who-sein, Doctor Who Get Smart and Lancaster, BBC iPlayer? There's an App for That!, If Adventure Has Name..., We Have a Date for Christmas... Again, The Mazes Are Landing Soon, It's All About Triumph of Intellect and Romance over Brute Force and Cynicism, Doctor Who in 3D?, and more!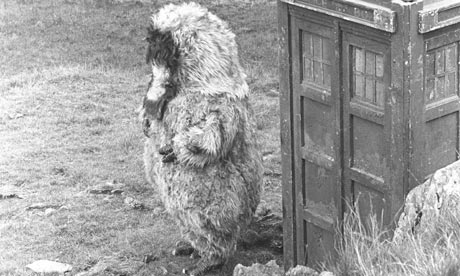 Mervyn Haisman, has died of heart failure aged 82. He with co-creator, Henry Lincoln, was responsible for the creation of the Yeti and the Quarks in the Patrick Troughton stories, The Abominable Snowmen and The Web of Fear in Season 5. Plus The Dominators in Season 6. He also worked on Doctor Findlay's casebook, The Onedin LIne as well as Howards way, all for the BBC. He was also responsible for scripting Hammer Horror's, The Curse of the Crimson Altar.
Even though we are still a couple weeks away from the airing of Doctor Who: A Christmas Carol (coming to BBC (6pm) and BBC America (9pm) on the 25th of December), we already have a release date for the special on Blu-ray and DVD.
Just in time for Gallifrey 22, the special is slated for release on the 15th of February. So much for giving it as a Valentine's Day gift. Along with the special, the accompanying 'Doctor Who: Confidential' on it and 'Doctor Who at the Proms 2010' will be included as bonus material.
We can also assume that the special will be available on iTunes the day after it is shown on BBC America, so figure on it being there on Boxing Day.
As mentioned in Doctor Who: Podshock (as well as here: DW Podshock App for Podshock Supporting Subscribers), if you are a current Podshock Supporting Subscriber, you can get a promo code for a free DW Podshock Podcast Companion App (iTunes link) for the iOS platform (iPhone, iPad, and iPod touch). Up until now, the codes from Apple were valid only in the US.
As of today, the codes can now be redeemed through any App Store around the world. This is great news for our supporters outside of the US.
Quantities are limited. Therefore we are limited to what codes are available to us at any given time. If you are interested in getting the app for free and you are a supporting subscriber, please let us know.