Celebrating Adventures in Time And Relative Dimensions In Space!

Now more than ever, we need your support! Become a Supporting Subscriber today.
---
With our new website (3.0), comes a new feature of blogs. It basically means in addition to news and other postings featured on our site, we will have regular contributors posting blog entries here as well relating to all things Doctor Who including the spin-offs of it.
Currently, the bloggers will be limited to staff and crew of the website and Doctor Who: Podshock, but will also feature other writers. One of which you will know from our podcast, but perhaps more so from his weekly This Week in Doctor Who (TWIDW) listings on Outpost Gallifrey and the TWIDW Yahoo Group, we welcome Benjamin Elliott who will be posting This Week in Doctor Who here as a regular blog.
As you may have learned, Outpost Gallifrey and the Doctor Who Forum on the same site will be closing come the 31st of July 2009 (see Shaun Lyon's statement here: Outpost Gallifrey & the Doctor Who Forum to Close July 31). The gallifreyone.com site, will stay dedicated to the annual Gallifrey One conventions.
For some 14 years, Outpost Gallifrey has served as the hub of Doctor Who fandom around the world. A rich community has developed around the site and we are ever so grateful to Shaun and the entire web staff there for all their hard work in making it happen.
"During all the years I've been taking care of you, you in return have been taking care of me. You are still my grandchild and always will be. But now, you're a woman too."
Outpost Gallifrey Presents:
Doctor Who: Podshock - Episode 151
Running Time: 1:37:24
News (including special announcement of new companion Karen Gillan), rumours, announcements, and feedback from: José, Rev. Craig Beeman, Amy Krell, Elizabeth Jackman, Benjamin Elliott, Shawn, Jill, ?, Fox Cutter (x2), Dan, Steve Small, Brian, and Chris.
"Come back to bed... Master"
Outpost Gallifrey Presents:
Doctor Who: Podshock - Episode 150
Running Time: 0:59:20
Eliza Roberts interviewed (speaking of her role in the 1996 movie along with Eric Roberts and his recent work with Christopher Eccleston), news, announcements, special communique from Starship Sofa, and more.
"We're hidden away with the most valuable collection of extraterrestrial artifacts in the world, and you just stumbled in by mistake?"
Outpost Gallifrey Presents:
Doctor Who: Podshock - Episode 149
Running Time: 1:39:50
DVD Easter Eggs, Doctor Who Fab Cafe reports from Tim Drury and Dave "AC" Cooper, news, feedback from Rassilon on Planet of the Dead, Tom, Rob Shear, and Chris in NC.
Hosted by Ken Deep, James Naughton, and Louis Trapani
You will find all postings of our previous episodes of Doctor Who: Podshock prior to episode 148 on our previous website where they are archived. Use the link before to find them.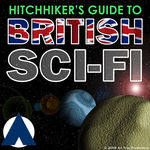 Hitchhiker's Guide to British Sci-Fi - Episode 4
Running Time: 1:00:48
Red Dwarf: Back to Earth reviewed, Life on Mars, Ashes to Ashes, Blake's 7 Audio Books, Torchwood, Paul Cornell's Captain Britain, and feedback from Miles Imel and Mark Goodacre.
Hosted by Louis Trapani, Ken Deep, and James Naughton.
"Is it usual for a host to kill a guest?"
Outpost Gallifrey Presents:
Doctor Who: Podshock - Episode 148
Running Time: 1:34:45
Review of the Four to Doomsday DVD, news, feedback from Jim E. Oconner, Don, James, Lela, Fox, Bruce Strong, Ralph, Mike, Kent, Eugenia & Gerri, and Ian Chesterton.
Hosted by Ken Deep, James Naughton, and Louis Trapani
Once again, the Gallifreyan Embassy website has regenerated. This is sort of the Jon Pertwee version of our site (give or take), as it is essentially our third incarnation of the website.
This new site is still being developed while our previous site remains operating and functioning as it had been since the last regeneration (2005). Eventually, we will migrate here as our default site while keeping the previous site as-is for archival purposes.
NOTE: If you have an existing account from our previous site, it will need to be re-created here.
While content is being moved to and being developed here on our website 3.0, please access our previous site for the past four years worth content.