Celebrating Time And Relative Dimensions In Space!
---
On Monday night on BBC Midlands during a regional Programme called "Inside Out" there was a Nine minute piece on Delia Derbyshires life, and how she came to do what she did. Earlier this year on Radio 4 there was a longer hour long Programme called "Mistress of Sound" That I suppose most people unfortunately missed. Which was more in depth about her music and also her part in Electronic Pioneers "White Noise"
Despite it's length this report was comprehensive enough to give you the basics and a never before heard sound clip. Delia describing what influenced her the most. But enough from me enjoy the report it's self below.
"Waiting for this mysterious scientific advisor of yours to turn up?"
Doctor Who: Podshock - Episode 228
Running Time: 1:43:01
Part 1 of our Interview with Paul Scoones @paul_scoones (responsible for Doctor Who DVD info text) by Ian Bisset @The6thDoctor , Amy Krell @amykrell joins us with her new segment, 'Amy's Choice', Anthony S Burdge @MythicDocWho interviews long time Gallifreyan Embassy member Tim Grogan @whoviangrande on Doctor Who fandom in the 1980s, feedback, news, and more.
Hosted by Louis Trapani ( @LouisTrapani ), Ken Deep ( @kendeep ), James Naughton ( @JamesNaughton ), and Amy Krell ( @amykrell ).
In case you missed my tweets earlier about it, there is a nice write up about the 25th anniversary event for the Gallifreyan Embassy in the Mineola Patch:
Gallifreyan Embassy Celebrates 25 Years in Mineola - Mineola, NY Patch:

"Straight from another world, the Gallifreyan Embassy will celebrate its 25th anniversary at Eleanor Rigby's in Mineola on Nov. 16.

The Gallifreyan Embassy is the home of 'Doctor Who: Podshock,' an internet podcast dedicated to all things 'Doctor Who,' the British sci-fi TV show about a time-traveling alien and his human companion. Podshock host Louis Trapani said Doctor Who actress Daphne Ashbrook will be the featured guest. "

(Via Mineola Patch)
You all know how much I love audiobooks - BTW, have you signed up at Audible yet? It's the best. Anyway, I just received an email from CSA Word, a lovely indie purveyor of superb audiobook magic - they're featuring John Simm reading "Billy Liar":
http://www.csaword.co.uk/epages/3828.sf/en_GB/?ObjectPath=/Shops/3828/Pr...
They've got wonderful books read by great readers, including Benedict Cumberbatch, Tim Pigott-Smith (whom we all love in "Masque of Mandragora"), Sir Derek Jacobi, Philip Glenister, Simm's cohort in "Life on Mars," and my all-time favorite... well, just look for "My Family and Other Animals," a true exit-misser if there ever was one, which I was in the middle of when the Touch took a dive. I'm looking forward to starting it up again soon. Made me smile.
Something cheerful as a follow-up to "Single Father." Hooray!
David Tennant to star in Manchester
United plane crash drama
David Tennant is to star in a new BBC drama about Manchester United and a plane crash that killed eight of the team's players in 1958
As promised on Doctor Who: Podshock, we can now confirm that Matt Smith is scheduled to be on The Late Late Show with Craig Ferguson on the same night as the next 25th Anniversary Event for the Gallifreyan Embassy, Tuesday the 16th of November 2010.
He is there for the 3:30 pm (PST) recording of the show in Los Angeles, CA. Which also means he won't be able to attend our event that evening on here the East coast.
There has been a good deal of confusion leading up this late night talk show appearance. As recently as last Thursday, the office of The Late Late Show with Craig Ferguson was sending out emails indicating that Matt Smith would not be appearing, meanwhile, that same day Craig Ferguson's Twitter account @CraigyFerg was tweeting that Matt Smith is to appear that night. In addition, there will be a Dalek there as well (which was tweeted the following day)!
Update: The latest Sonic Newsdriver is finally available (see below). It had encountered some delays which now has also delayed the next Doctor Who: Podshock currently in post-production. Hopefully, DWP 228 will be out on or before Tuesday. After that, there should be another Extra Edition DWP for supporting subscribers.
Sonic Newsdriver (14 November 2010) -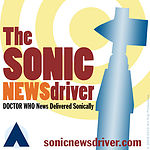 The Sonic Newsdriver 20101114
Selected Doctor Who related news delivered sonically.
For Earth-date: Sunday, the 14th of Nov. 2010
Happy Birthday Number 8, Happy Birthday Number 11, Heeere's Joooohnny, No Matt Smith at Gallifreyan Embassy Anniversary Event, We have a Date for 1996, Happy Anniversary Doctor Who, Talkin about my Regeneration, Let's Return to Earth - in another week, You May be One of Many Children in Need, Isn't That Special, and much more!
[
Art Trap Productions
]
It's that time again when Doctor Who, Torchwood, Sarah Jane Adventures fans come together under one virtual sky at what has become the legendary Doctor Who: Podshock meet ups on Second Life.
The last events we held on Second Life were to celebrate the 25th anniversary of the Gallifreyan Embassy and the 5th anniversary of Doctor Who: Podshock. This time we are coming together to celebrate 47 years of Doctor Who itself! Yes, it is the anniversary of Doctor Who!
Come and join Doctor Who: Podshock hosts, correspondents, friends, and listeners in celebrating 47 years of the longest running science fiction series on television all without leaving the comfort of your home!
There are no secret locations or handshakes needed. No long car or train rides. No worrying about parking or finding a seat. No worrying about what to wear (at least not in the physical sense). No worrying about travel fares, dinner checks, tips, or who paid for the last round. Just kick back in front of your computer with your favourite beverage and/or snack and join other Doctor Who, Torchwood, and alike fans coming together on Second Life. All at no extra cost to you.
It's our summer Second Life meet up taking place on Saturday, 20 November 2010 and what better way to celebrate Doctor Who's anniversary. Come together with other Doctor Who and Torchwood fans no matter where you are geographically located, all you need is broadband internet and a computer capable of running the free Second Life software.
Our seasonal meet ups are a fun and fantastic way to connect with other fans without even leaving the comfort of your own home. Each meet up has been grown larger and larger.