Celebrating Time And Relative Dimensions In Space!
---
5 Sonic Lipsticks
33% (1 vote)
4 Sonic Lipsticks
0% (0 votes)
3 Sonic Lipsticks
33% (1 vote)
2 Sonic Lipsticks
33% (1 vote)
1 Sonic Lipstick
0% (0 votes)
0 Sonic Lipsticks
0% (0 votes)
Total votes: 3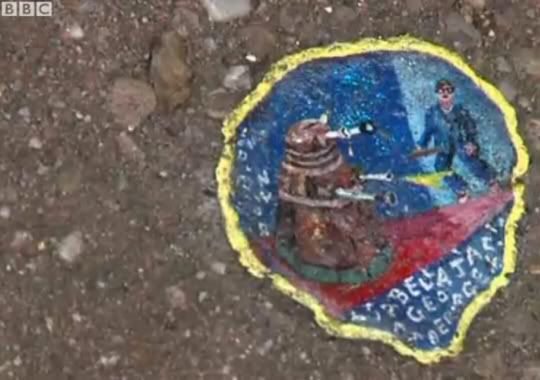 Ben Wilson London based Chewing gum artist Dr Who painting
http://www.bbc.co.uk/news/entertainment-arts-11677462
Cheers, daveac
"Coulrophobia, it's the fear of clowns. Johnny Depp has it."
Doctor Who: Podshock - Episode 226 EXTRA Edition
Running Time: 0:30:35
In this Extra Edition of Doctor Who: Podshock we interview Tommy Knight (Luke) on The Sarah Jane Adventures, plus we have Doctor Who news and more.
Hosted by Louis Trapani ( @LouisTrapani ) with Ken Deep ( @kendeep ) and James Naughton ( @JamesNaughton ).
Matt Smith (the 11th Doctor) at the Paley Center for Media in NYC for the premiere showing of the 2010 Doctor Who series in April 2010.
Photo by Louis Trapani • @LouisTrapani
As we previously announced, the Doctor Who 1996 Movie will finally be released as a region 1 DVD in North America. It has long been available on region 2 (I had my copy for some time now), it has been tied up in release rights issues between the studios involved (BBC, Fox, Universal) for a region 1 DVD release since the movie first aired.
We were pleased to report that it would finally be coming to region 1 with the recent revisiting of the DVD (a new re-release edition). Up until now, we didn't have a release date other than 2011 for this 8th Doctor adventure starring Paul McGann and Daphne Ashbrook. Now according to tvshowsondvd.com, BBC and Warner Home Video have announced that it will be released on February 8th as a 2-disc set titled, 'Doctor Who - The Movie: Special Edition.'
It coincides with the release of another 2-disc set 3rd Doctor story, 'The Mutants' starring Jon Pertwee as the Doctor and Katy Manning as Jo Grant on DVD.
Patrick Troughton (the 2nd Doctor) in costume on stage at the Trenton War Memorial on the 23rd of March 1986. Here's a close up of Pat at the same event in New Jersey.
Photo by Louis Trapani • @LouisTrapani
5 Sonic Lipsticks
55% (6 votes)
4 Sonic Lipsticks
36% (4 votes)
3 Sonic Lipsticks
9% (1 vote)
2 Sonic Lipsticks
0% (0 votes)
1 Sonic Lipstick
0% (0 votes)
0 Sonic Lipsticks
0% (0 votes)
Total votes: 11
The moment you all been waiting for… I reveal my new costume for The Sonic Newsdriver in this latest episode released today. That and other fashion news of the Doctor Who world are covered as well as some non-fashion related DW news.
Sonic Newsdriver (26 October 2010) -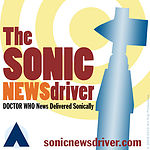 The Sonic Newsdriver 20101026
Selected Doctor Who related news delivered sonically.
For Earth-date: Tuesday, the 26th of Oct. 2010
Doctor Who related news covering Death of the Doctor, Better Late Than Never, It May Be A Mystery To You, We Will Rock Children in Need, Happy Anniversary Frazer, Fashion - Turn to the Left, Fashion - Turn to the Right, and much more!
It seems that not only 8th Doctor wants a costume change, Matt Smith (the 11th Doctor) is reported stating that he would like some changes in his costume. Specifically, a warmer coat, perhaps in addition to his tweed jacket.
As for a hat, he said he wanted a hat back in April when he was in New York for the premiere of the 2010 series of Doctor Who. So this comes as no surprise. We already know that fezzes are cool.
Television - News - Matt Smith wants 'Who' outfit changes - Digital Spy: "'I know I want a coat,' he said. 'You get cold in only a tweed jacket. And I want a hat. Not all the time. Just now and again. It feels Doctory and right for my Doctor. I think it can evolve and give it that variety.'
BBC Radio 4 continues to deliver aural gifts to us, license fee be damned!
"Playing the Dane" is a reflection on different interpretations of Hamlet narrated by the amazing Michael Sheen (fleetingly quoting Richard Griffiths' "I shall never play the Dane!," much to my unending delight!), with comments from actors as diverse as David Tennant, Derek Jacobi and John Simm. And people who were never Timelords, like Kenneth Branagh and Jonathan Pryce.
Speak the speech I pray you!