Celebrating Time And Relative Dimensions In Space!
---
Photo: Daphne Ashbrook (Grace in the 1996 Doctor Who movie) and Ken Deep @kendeep at the Doctor Who Store booth at New York Comic Con (10-10-10).
Join special guest, Daphne Ashbrook in celebrating 25 years of the Gallifreyan Embassy at our next Anniversary Event on November 16th in Mineola, NY.
Photo by Billy Davis
Photo taken at our live show at New York Comic Con on 10-10-10 (listen to the live show in Doctor Who: Podshock 225). Pictured left to right: Ken Deep @kendeep , Louis Trapani @LouisTrapani , Tony Lee @mrtonylee (writer for IDW Publishing's Doctor Who: The Forgotten and the ongoing Doctor Who comic book series).
Photo by Billy Davis
"Tell me on the way Brigadier! Tell me on the way! You must cultivate a sense of urgency."
Doctor Who: Podshock - Episode 225
Running Time: 1:15:11
LIVE from New York Comic Con with special guest, Tony Lee @mrtonylee (Doctor Who: The Forgottenand the ongoing Doctor Who comic series by IDW), plus breaking news on Gallifrey 22 with Shaun Lyon, Doctor Who: Demon Quest 2 - The Demon of Paris, and more.
Hosted by Louis Trapani ( @LouisTrapani ) and Ken Deep ( @kendeep ).
5 Sonic Lipsticks
27% (3 votes)
4 Sonic Lipsticks
9% (1 vote)
3 Sonic Lipsticks
9% (1 vote)
2 Sonic Lipsticks
45% (5 votes)
1 Sonic Lipstick
0% (0 votes)
0 Sonic Lipsticks
9% (1 vote)
Total votes: 11
Sonic Newsdriver (16 October 2010) -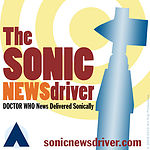 The Sonic Newsdriver 20101016
Selected Doctor Who related news delivered sonically.
For Earth-date: Saturday, the 16th of Oct. 2010

A double length show featuring breaking news of Gallifrey 22 with special guest Shaun Lyon of the Gallifrey One conventions, plus talkin' about my regeneration, don't cross the streams, born in the USA, Tennant trending, what's wrong with my voice, gossiping Gaiman, heard it was your birthday, hello? hello?, Wiiiii have a date, Who is watching you?, NYCC tops 95000, Party with Daphne Ashbrook, and more!
In DWM Steven Moffat has his own page at the beginning of the magazine called "Production Notes" well in DWM 426 (That's the Cybermen Special and it's why I own it!) Steven goes into explaining the series split and there are a few thing which come to the fore.
1.) Dear Steven even isn't sure even at this time, as to how the series will be numbered in the future, seeing as he's called the series 1, 5, 11, 31 and Fnarg by his own admittance. Fnarg being my personal favourite.
2.) Spoilers or not, so if you don't like possible spoilers skip the first paragraph that Steven has written.
and....
Further to a piece of E-mail Louis, Ken and James received in Doctor Who: Podshock 224, where the Author bemoaned having to pay the BBC licence fee. And we all know how James is a great champion for the BBC, well here's another.
Mitch Benn is well known in his own right as a Comical Singer Songwriter, and is part of the BBC Radio 4 "The Now Show!" with Steve Punt and High Dennis. Put everything (He could think of, including Blakes 7 and Tripods so that should keep ken happy, and yes Doctor Who does get a mention!) down in to one song. He himself would probably say it's not everything that the BBC has done or does but, for us Doctor Who fans the Show gets the most mentions in the song. Mitch Benn being another vocal fan.
Further to the Restoration Team's little tease I put up on Thursday/Friday last week, the reveal.
It's a totally revamped version of Day of The Daleks. OK as far as I can remember it's only on VHS so far, but the revamp comes not only with the special effects of modern Dalek zapping, which can be seen in the trailer. But Mr. Dalek AKA Nick Briggs re-does the voices for this release. There also comes the news that at least on the European side of the Atlantic that Day of the Daleks will be part of the Revisitations Boxed Set Nr. 2.
The other DVD's should be Carnival of monsters and Resurrection of the Daleks, which is again another one I already have in my collection. With Carnival it's not so bad I looked at the lack of extra's and picked it up on iTunes.
A release date has not yet been set. The trailer from Classic DW from Twitter (the official Restoration Team Twitter handle) and the DWO site can be seen below.
During one of the many pledge drives the Gallifreyan Embassy did for WLIW back in the 80's (this one is from 1988).
We are celebrating 25 years of the Gallifreyan Embassy all this year, come to our next Anniversary Event on November 16th in Mineola, NY with special guest, Daphne Ashbrook.
In this photo: Ralph Schiano, Keith Klitses, Catherine Spicer Quirbach, Peter 'Bug' Reinert, Jenn Melvin, David Lee Gold, Stewart, Donna Barahal Noesi, Daniel Clement, Timothy D. Grogan, Ken Deep, Lee Millheiser, Geoffrey Gould, Beth Treckman, Denise R., Chase Leonard Martin, Louis Trapani, and Andrea Ornstein.