Celebrating Time And Relative Dimensions In Space!
---
You know how the Gallifreyan Irregluars just dig on Mr. McGann. If you're lucky enough to be near Bristol, check this out:
http://www.arnolfini.org.uk/whatson/films/details/735
Not only do you get to hear McGann reading extracts from Shackleton's diary, but you get to see a Silent Film. It will be good for you and you will thank me later. And here's an image from a cool new website called, well, Eff Yeah Paul McGann. You're geeky; you'll find it if you want to.
Relive the adventures of the Doctor and Ace when they arrived in London in 1963 to discover two rival Dalek factions in Remembrance of the Daleks with this new exclusive set from Forbidden Planet.
A four figure set of Daleks from the story which was part of Doctor Who's 25th anniversary celebration series (hence why it was set in 1963) include a white Imperial Dalek, a renegade Dalek, a Supreme Dalek, and a special weapons Dalek. They become available on 8 October 2010 and unfortunately are only available in the UK and Eire according to the Forbidden Planet website.
The pre-order price is £34.99. For more information or to order, click here.
Watch a promo video for Doctor Who Live. It features Matt Smith as the 11th Doctor (note, Smith is not appearing in the live show himself, only via prerecorded video projected on screen presumably similar to what you see here). The other footage obviously comes from the recent Doctor Who Proms music event.
(The following has been re-posted from my blog at arttrap.com)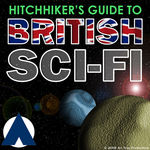 After a long hiatus, Hitchhiker's Guide to British Sci-Fi has returned. Dave Cooper @daveac joins me, Louis Trapani @LouisTrapani as co-host in this episode in which we discuss the new Torchwood series coming to Starz in the US, series 4 of The Sarah Jane Adventures, we invite our younger listeners for their reviews of K9 - The Series, plus we discuss Sherlock, The Deep, Ashes to Ashes, Merlin, and more. It also features part of an interview with Brian Croucher (Travis (2) on Blake's 7) that can be heard in full in Doctor Who: Podshock 219.
For more details, see Episode 8 of Hitchhiker's Guide to British Sci-Fi. If you are subscribing to the podcast, it is already in the feeds, or alternatively, you can download it directly here: Hitchhiker's Guide to British Sci-Fi - Ep. 8 (MP3, 39 MB)
5 TARDIS Groans
44% (7 votes)
4 TARDIS Groans
38% (6 votes)
3 TARDIS Groans
19% (3 votes)
2 TARDIS Groans
0% (0 votes)
1 TARDIS Groan
0% (0 votes)
0 TARDIS Groans
0% (0 votes)
Total votes: 16
Last month Graeme Sheridan @The2ndDoctor reported on the new Doctor Who games coming for the Nintendo Wii and DS game systems. We also spoke about it in Doctor Who: Podshock 220. Now news has broken that Blue Ocean will be releasing a new Nintendo Wii remote controller device as well as a stylus and slipcases for the DS based on the 11th Doctor's sonic screwdriver.
Doctor Who has won Best Family Drama by the TV Choice Awards 2010. Karen Gillan (Amy Pond) and Steven Moffat (Lead Writer and Executive Producer) were there in person at the ceremony Monday evening hosted by Alexander Armstrong (voice of "Mr. Smith" on The Sarah Jane Adventures).
This comes on the heels of another award granted to Doctor Who, this time a Hugo Award for Best Dramatic Presentation (Short Form) for last year's Doctor Who special, The Waters of Mars
(Amazon US link).
Out of the handful of Doctor Who specials transmitted last year, I enjoyed Waters most.
Paul Cornell was at the Hugo Awards ceremony presenting an award.
Congratulations all around!
Ok this release has been out a while, but I had a lot of work in the way, so hear goes (a bad audio joke, Big Finish audio ahem Yes cough well).
I will start by saying this review (of Legend of the Cybermen
) will have spoilers in it, but hopefully enough that you'll go out and buy it. The first thing is the story continues on from The Wreck of the Titan, and by that really had a lot to live up to, because Wreck was written so well by, and directed by Barnaby Edwards of Dalek fame and not of DWNY fame. In comparison Legend is written by Mike Maddox and Directed by Nick Briggs.
According to various (unconfirmed) reports on the net, the new 4th series of The Sarah Jane Adventures will be returning to the BBC and CBBC on Monday, 11 October 2010 (with part 1 of The Nightmare Man by Joseph Lidster).
It is unclear whether the new series is back to one episode a week or will it be similar to last year which transmitted two episodes a week. Remember, each story takes two half-hour episodes to tell in The Sarah Jane Adventures. The BBC had commissioned two new series (24 x 30-minutes episodes), this is the first of the two (12 episodes telling six stories). No details as of yet pertaining to this series outside of the UK.