BBC
---
The BBC released a teaser promo video for the upcoming first episode of the new 2012 series of Doctor Who titled 'Asylum of the Daleks' (coming to BBC One on 1 September 2012).
Doctor Who: Podshock - Episode 269
Running Time: 1:35:08
Doctor Who related news, feedback (Gary, Scott, Blue Box Bill), and more. Hosted by Louis Trapani, Dave Cooper, and Taras Hnatyshyn.
Doctor Who: Podshock - Episode 261
Running Time: 1:25:04
Our special panel discussion on the many possibilities of a Doctor Who theatrical movie. Recorded live at our November meet up with a stellar line up of panelists consisting of Graeme Sheridan, Dave Cooper, Victor 1st Mornington (Doctor Who Exposition & Katrina), Dave Lewis (TARDIS Newsroom & Paradox Island), Mike Rall (Who Island), and Saffia Widdershins (Prim Perfect Magazine), hosted by Louis Trapani.
It's that time again... Yep, news of a Doctor Who movie is abound again. Though this time the source is coming from Variety. Today the entertainment industry paper has broken the news that director David Yates is working with Jane Tranter of BBC Worldwide to bring the Time Lord to the big screen.
They are looking for writers for the project currently and their sights are not limited to just the UK.
Unfortunately, as I had always feared when this topic comes up as often as it does, the movie would not be in sync with the established television canon (then again, the television series itself is often not in sync with its own canon, but that's another story). Yates who has directed the last four Harry Potter films told Variety, "Russell T. Davies and then Steven Moffat have done their own transformations, which were fantastic, but we have to put that aside and start from scratch."
Let's hope they don't rename the Doctor character to "Dr. Who" like the two feature films of the 1960s did starring Peter Cushing.
As of Saturday the 1st of October, Doctor Who Confidential is no more. After six years of coverage of the production of Doctor Who and background information, Confidential comes to an end, but it goes out with a bang, not with a whimper.
As followers of the British Schools Writing Competition should know, Confidential has been following the process and on Saturday it comes to a climax as the finished episode "Death is the Only Answer" is transmitted on Confidential.
So thank you Doctor Who Confidential for all your information, past and present. You shall be missed.
Once again there will be a Doctor Who Christmas special this year, a 60 minute drama produced by BBC Wales for BBC One. Set in the World War II era, it stars Matt Smith, Claire Skinner, Bill Bailey, Arabella Weir, and Alexander Armstrong. Production has already begun and is expected to continue through mid October.
The following is the press release for the upcoming special.
Cardiff, 21 September 2011: Production has started on the 2011 Doctor Who Christmas Special in which the Doctor (Matt Smith) finds himself in war-torn England embarking on a magical and mysterious adventure with a young widow and her two children.
A special Announcment from the BBC.
A special, one-off mini-episode of Doctor Who starring Eleventh Doctor Matt Smith will be shown on BBC Three this Autumn.
Doctor Who returns on Saturday, 27 August 2011 both on the BBC in the UK and BBC America in the USA. Executive Producer and Lead Writer for the series, Steven Moffat had the following to say about the resumption of the 2011 series in the latest from the BBC Press Office. Some may consider some of this to be a little "spoilery" — so be warned if you rather not know any details about the upcoming episodes for 2011.
What do you think of the Doctor's long coat in the promo image?
While you are waiting for the 2011 autumn series of Doctor Who, Torchwood is back and we are reviewing it live on the net for Hitchhiker's Guide to British Sci-Fi. So join us, this Sunday…
We Review the 1st Episode of Torchwood: Miracle Day Live on the Net on Hitchhiker's Guide to British Sci-Fi -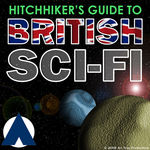 Torchwood is back and it's a miracle, a Miracle Day in fact, and so is Hitchhiker's Guide to British Sci-Fi! Join us live on the net for a review of the first episode of Torchwood: Miracle Day - The New World on Sunday, July 17, 2011 at 4pm EDT on Talkshoe.
If you are a Podshock Supporting Subscriber you will be given preference in the queue of the live show and bumped up.