actor
---
Matt Smith, Karen Gillan, and Arthur Darvill will be on hand at the Barnes & Noble located at 555 Fifth Avenue, New York, NY at 12 noon this Friday, April 8, 2011 signing copies of the DVD box set of Doctor Who: The Complete Fifth Series (season 31).
According to the Barnes & Noble website, "You will need a wristband to join the signing line for this event. Wristbands will be distributed starting at 9AM on Friday, April 8 with the purchase of the Doctor Who: The Complete Fifth Series boxed Set. Please call store for additional details."
One can only assume this would apply to the Blu-ray set as well, but best to call the store to confirm at 212-697-3048.
Doctor Who: Podshock - Episode 241 EXTRA Edition
Running Time: 0:35:01
In this Extra Edition of Doctor Who: Podshock we include our full length extended interview with John Leeson (the voice of K9 and more). Hear it here first in its entirety (we'll have a shorter version in an upcoming DWP episode).
Thank you supporting subscribers!
Hosted by Louis Trapani ( @LouisTrapani ) and Ken Deep ( @kendeep ).
Doctor Who Monthly has reported via Twitter this morning the sad news of the death of actor Michael Gough. He will be remembered by Doctor Who fans as the Celestial Toymaker in the story of the same name (The Celestial Toymaker) in 1966 with the first Doctor (William Hartnell) and Councillor Hedin in the 1983 story, Arc of Infinity with the fifth Doctor (Peter Davison).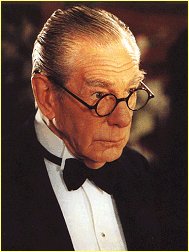 You may also recall him for his parts on the big screen such as the trustworthy butler Alfred Pennyworth in the 1989 Batman film as well as its sequels, Batman Returns (1992), Batman Forever (1995), and Batman & Robin (1997).
Also included in his long list of credits is Sleepy Hollow (1999) playing Notary Hardenbrook.
Colin Baker the 6th Doctor has now joined the ranks of twitter, under the pseudonym of @SawbonesHex.
Colin describes himself as an actor, columnist, writer, husband, father, Wycombe Wanderers fan, grumpy old man', also has an official website at colinbakeronline.com. Also he writes regular columns for the Bucks Free Press.
http://twitter.com/SawbonesHex
(Image Bucks Free Press)
It's been more than a couple weeks now since word first traveled across Twitter of the sad news that we lost Nicholas Courtney. For many we us, we were in disbelief and shock. If you heard the latest episodes of Doctor Who: Podshock or The Sonic Newsdriver, you will know that I was literally on my flight back from attending Gallifrey One 2011 in Los Angeles when word first came to me. After such a 'Doctor Who high' that was Gallifrey One, to have this news come on its heels... well, it's never a good time for news like this, but we can be grateful it was after, not during the convention. I want to thank Correspondent Graeme Sheridan @The2ndDoctor for posting the news to our site (see: R.I.P. The Brigadier, Nicholas Courtney Dies at Age 81). I had meant to follow it up, posting some of my thoughts, but I found it difficult to do. I was even dreading having to record the next episode of The Sonic Newsdriver only because I would have to report it. Though now that has come to pass.
It is with great sadness and a very heavy heart, that I report the passing of Nicholas Courtney, best known for his role as the Brigadier.
He was first seen in Doctor Who as Bret Vyon a security agent in the 12 part "The Daleks Master Plan" Later taking up the Role of Colonel Lethbridge Stewart in "The Web of Fear" and then comming back one year later as Brigadier Lethbridge Stewart in the Invasion.
The last couple days, Doctor Who: Podshock Correspondent, Tara Wheeler @TARDIS_Tara has been on the hunt for Matt Smith who is in the US currently shooting Doctor Who in Utah for the upcoming new 2011 series. Matt Smith also appeared on The Late Late Show with Craig Ferguson on Tuesday.
From this photo that Tara has posted to her Tumblr blog, it appears she has found what she was looking for today. Somehow I am not surprised. When Tara has a goal set in her sights, there's very little that can come between it and her. She hasn't checked in with us since as of yet and I haven't caught up with her Twitter feed yet, so I don't have the details just now, but the photo seems to have been posted about 2 hours ago.
As promised on Doctor Who: Podshock, we can now confirm that Matt Smith is scheduled to be on The Late Late Show with Craig Ferguson on the same night as the next 25th Anniversary Event for the Gallifreyan Embassy, Tuesday the 16th of November 2010.
He is there for the 3:30 pm (PST) recording of the show in Los Angeles, CA. Which also means he won't be able to attend our event that evening on here the East coast.
There has been a good deal of confusion leading up this late night talk show appearance. As recently as last Thursday, the office of The Late Late Show with Craig Ferguson was sending out emails indicating that Matt Smith would not be appearing, meanwhile, that same day Craig Ferguson's Twitter account @CraigyFerg was tweeting that Matt Smith is to appear that night. In addition, there will be a Dalek there as well (which was tweeted the following day)!
"Coulrophobia, it's the fear of clowns. Johnny Depp has it."
Doctor Who: Podshock - Episode 226 EXTRA Edition
Running Time: 0:30:35
In this Extra Edition of Doctor Who: Podshock we interview Tommy Knight (Luke) on The Sarah Jane Adventures, plus we have Doctor Who news and more.
Hosted by Louis Trapani ( @LouisTrapani ) with Ken Deep ( @kendeep ) and James Naughton ( @JamesNaughton ).
"Hold on there, old guy, Chang Lee will help you out."
Doctor Who: Podshock - Episode 222
Running Time: 1:50:32
Interview with Yee Jee Tso (Chang Lee in the 1996 movie), Tara Wheeler talks about tracking down David Tennant, Billy Davis files a report from Dragon*Con with Frazer Hines, Doctor Who: The Forgotten Army and Doctor Who: Podshock in New York City, join us for the next 25th anniversary event for the Gallifreyan Embassy, and more. Dedicated to the memory of David Jennings ("Adric Antfarm").
Hosted by Louis Trapani ( @LouisTrapani ), Ken Deep ( @kendeep ), with Tara Wheeler ( @TARDIS_Tara ).