actor
---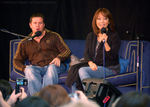 Kai Owen (Rhys Williams on Torchwood) will head up an emergency Wales charity volunteer drive for Save the Children according to a report in Walesonline.co.uk. The charity is looking for emergency workers to raise money when disaster hits such as earthquakes, typhoons, disease outbreaks, etc.
"When an emergency strikes, Save the Children leap into action so they can reach children and families caught up in a disaster as quickly as possible," Kai stated.
Left to right: James Naughton, John Levene (Sgt. Benton), Joshua Lou Friedman, Ken Deep, and Louis Trapani at Gallifrey 20, Los Angeles, CA. Doctor Who: Podshock interviews John Levene.
Photo courtesy Joshua Lou Friedman
British actor, Harry Towb has died at 83 on Friday after briefly battling cancer. Born in Larne, County Antrim, grew up in Belfast, and moved to England in the 1950's, has passed away peacefully in his home in London.
Although his career spanned the stage, television, and film with roles in everything from Little Shop of Horrors (stage), The Avengers (TV), and The 39 Steps (film), for Doctor Who viewers, they may recognize him as Osgood in the 1969 story, 'Seeds of Death' with Patrick Troughton or as McDermott in the 1971 story, 'Terror of the Autons' with Jon Pertwee.
According to an article by The Press Association, David Tennant has been cast as the villain "Pomfrey" in a sequel to the 2007 movie, St Trinian's. The article states that 27 year old, Sarah Harding (Girls Aloud singer) along with Tennant will be joining Rupert Evertt (who starred in the original film) and Colin Firth for this sequel named, St Trinian's II: The Legend of Fritton's Gold.
It also states that Tennant's character will have "sidekicks from a women-hating secret society."
Additionally, Montserrat Lombard of Ashes to Ashes will also be appearing in the film.
Submitted by Travis Valente: Travis (in the Gallifreyan Embassy Doctor Who: Podshock shirt) along with the cast and crew members of Doctor Who while at the Gallifrey 2006 convention in L.A., California.
Doctor Who: Podshock Correspondent Amy Krell (left) with Tom Baker (the 4th Doctor) (right) at his very first US convention in 1979.
BBC America has announced that David Tennant (the 10th Doctor) and Russell T Davies (Executive Producer and Lead Writer) will be joining Julie Gardner (Executive Producer) and Euros Lyn (Director) at this year's San Diego Comic-Con.
Together they all will be on a Doctor Who panel on Sunday, the 26th of July 2009 from 10 AM to 11 AM PDT at this annual event.
Meanwhile, John Barrowman (Captain Jack) will be joining Russell T Davies, Julie Gardner, and Euros Lyn on a Torchwood panel on Sunday, the 26th of July 2009 from 2:15 PM to 3:45 PM PDT.
The 6th Doctor turns 66 today. The Gallifreyan Embassy and Doctor Who: Podshock wishes Colin Baker a happy birthday.
Colin had burst onto the Doctor Who scene taking over the lead role after Peter Davison stepped down in 1984 as the colourful and bold 6th Doctor. Although not his first association with Doctor Who, he had played Commander Maxil in the 5th Doctor story, Arc of Infinity. Blake's 7 fans will also know him as 'Bayban the Butcher' - a guest role he had in the series.
Wendy Padbury (Zoe Heriot of Doctor Who), Daphne Ashbrook (Grace of the 1996 Doctor Who TV movie), and Frazer Hines (Jamie McCrimmon of Doctor Who) at Gallifrey 20.
Photo by Louis Trapani
On the 28th of September 1986, both Colin Baker (pictured here on the left with a beard) and Tom Baker appeared together in Brooklyn, NY. Photo by Louis Trapani