book
---
To the release of the Fan Created book The Mythological Dimensions of Doctor Who, there have been a couple of Events anounced, See Below for details. The Events give you the Chance to pose questions. At the British event Simon Guerrier will be in attendance as he wrote the a forward for the book. The Preface is writen by DWNY's own Barnaby Edwards.
The Mythological Dimensions of Doctor Who upcoming events
I-Con 29, March 26 -28, 2010, www.iconsf.org
Thursday, May 20, 2010, 7 p.m., US/NYC Book Launch event:
The Way Station, 683 Washington Ave, Prospect Heights, BK, 11238, USA.
(btw prospect and st marks, a/c to washington or 2/3 to BK Museum or q to 7th Ave)
Contact: Andy Heidel , andy.heidel@gmail.com , 917.279.5412
http://heidelblerg.blogspot.com/
Wednesday, May 26, 2010, 7 p.m.: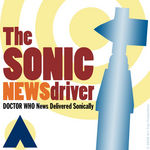 The Sonic Newsdriver 20091117
Selected Doctor Who related news delivered sonically.
For Earth-date: Tuesday, the 17th of Nov. 2009
Waters of Mars Floats to 9.1 Million, Moorcock for Doctor Who, No Movie For You, Waters of Mars Accessories, Live Waters Review, Bigger Than Life, and more.
Hosted by Louis Trapani
Over 300 pages of new material have been added to the popular 2008 book, Doctor Who: The Writer's Tale in an updated edition due out in paperback on the 14th and 20th of January 2010 in the UK and US respectively (suggested retail price £16.99/$19.99). The new and updated edition written by Russell T Davies and Benjamin Cook sports a new cover featuring David Tennant, Russell T Davies, and John Simm and is retitled, Doctor Who: The Writer's Tale - The Final Chapter
(Amazon US affiliate link). Included in this new edition will be never-beore published behind-the-scenes photos from David Tennant's final stories.
The book is a comprehensive and personal account of Doctor Who covering its return in 2005 with in-depth discussions with its Head Writer and Executive Producer, Russell T Davies first published to critical acclaim in September 2008. This new edition brings an additional 130,000 words, spread across thirteen new chapters.
"Life depends on change, and renewal."
Outpost Gallifrey Presents:
Doctor Who: Podshock - Episode 155
Running Time: 1:32:48
Review of the first Patrick Troughton story, Power of the Daleks, news, Mike Doran joins us for a Who Party 14 Toronto Report, and feedback including a review of Prisoner of the Daleks by Dave (Skaroth), and feedback (Jordan, Steve Lee, Samantha (Romana II), and Companion2B (Sarah)).
Mark Gatiss leads a 30 minute documentary on BBC Radio 4 exploring Doctor Who novelisations published by Target books. The audio documentary, On the Outside it Looked Like an Old Fashion Police Box is available to listen to via the BBC iPlayer (it is available outside of the UK) for the next seven days.
It features interviews with Terrence Dicks, Anneke Wills, and Russell T Davies among others, as well as audio clips from various audio book adaptations.
BBC description: