book
---
"Would you like a jelly baby?"
Doctor Who: Podshock - Episode 200
Running Time: 1:50:51
Tom Baker (The 4th Doctor), MyAnna Buring (Scooti in The Impossible Planet), and 'Victor1st Mornington' (The Doctor Who Experience on SL) interviewed. The Mythological Dimensions of Doctor Who reviewed by Graeme Sheridan, The Mythological Dimensions of Doctor Who Book Giveaway, Our Second Life Meet Up for May, 200th episode greetings from The Cultdom Collective and Tin Dog Podcast, and more!
Hosted by Louis Trapani, Ken Deep, with Jules Burt.
Event:
Doctor Who: Podshock at The Mythological Dimensions of Doctor Who Book Launch Event in NYC
When:
Thursday, May 20, 2010 at 7pm EDT
Where:
Fiddlesticks Pub & Grill


56 Greenwich Ave., New York, NY
As previously reported, there are several New York events (and one in London) relating to the release of the book, The Mythological Dimensions of Doctor Who
(available now on Amazon US) (see Two of Four NY Events Scheduled for the Book, The Mythological Dimensions of Doctor Who) we are now excited to announce another at 7pm on Thursday, the 20th of May at The Way Station (note new location) Fiddlesticks. We are especially excited about this particular event because Doctor Who: Podshock will be joining editor/contributors Anthony S Burdge, Jessica Burke, Kristine Larsen along with fact checker/contributor Barnaby Edwards (of DWNY, Who York, and who maintains a blog here with us), and contributor Melody Green.
Ken Deep and Louis Trapani of Doctor Who: Podshock will be recording live at the event for an upcoming episode. Join us as we celebrate the launch of this fantastic new book.
You can hear Anthony S Burdge report on the recent East Village Cinema event with Matt Smith, Karen Gillan and Steven Moffat attending recently on Doctor Who: Podshock 192 and Doctor Who: Podshock 193 as well as with Jessica Burke on our recent live shows reviewing new episodes of Doctor Who.
Anthony S Burdge, contributing author and editor of the book, The Mythological Dimensions of Doctor Who who you may have heard reporting from the East Village Cinema in Doctor Who: Podshock 192 has announced two of four New York City book signing events in addition to one in the UK.
There two Staten Island events:

Date: Saturday, May 15, 2010
Time: 1:00pm - 4:00pm
Location: Staten Island - Borders Express
Street: 2655 Richmond Avenue
City/Town: Staten Island, NY

Date: Monday, May 24, 2010
Time: 7:00pm - 8:00pm
Location: NYPL Tottenville Branch
Street: 7430 Amboy Road
City/Town: Staten Island, NY
There will be two other NYC events to be announced soon taking place on May 20th in Brooklyn and May 27th in Manhattan.
In the UK:
"It's true then. They say the Evil One eats babies!"
Doctor Who: Podshock - Episode 188
Running Time: 0:51:10
We interview the editors and some of the contributors of the book, Chicks Dig Time Lords including Tara O'Shea, Lynne Thomas, Liz Myles, Tammy Garrison, and Katy Shuttleworth (at Gallifrey 21), a Who York announcement and Louise Jameson from Who York's November 2009 event, Hitchhiker's Guide to the Whoverse with Eric Escamilla, a report from Germany with Graeme Sheridan, and more.
To the release of the Fan Created book The Mythological Dimensions of Doctor Who, there have been a couple of Events anounced, See Below for details. The Events give you the Chance to pose questions. At the British event Simon Guerrier will be in attendance as he wrote the a forward for the book. The Preface is writen by DWNY's own Barnaby Edwards.
The Mythological Dimensions of Doctor Who upcoming events
I-Con 29, March 26 -28, 2010, www.iconsf.org
Thursday, May 20, 2010, 7 p.m., US/NYC Book Launch event:
The Way Station, 683 Washington Ave, Prospect Heights, BK, 11238, USA.
(btw prospect and st marks, a/c to washington or 2/3 to BK Museum or q to 7th Ave)
Contact: Andy Heidel , andy.heidel@gmail.com , 917.279.5412
http://heidelblerg.blogspot.com/
Wednesday, May 26, 2010, 7 p.m.: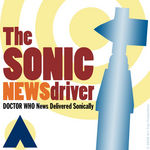 The Sonic Newsdriver 20091117
Selected Doctor Who related news delivered sonically.
For Earth-date: Tuesday, the 17th of Nov. 2009
Waters of Mars Floats to 9.1 Million, Moorcock for Doctor Who, No Movie For You, Waters of Mars Accessories, Live Waters Review, Bigger Than Life, and more.
Hosted by Louis Trapani
Over 300 pages of new material have been added to the popular 2008 book, Doctor Who: The Writer's Tale in an updated edition due out in paperback on the 14th and 20th of January 2010 in the UK and US respectively (suggested retail price £16.99/$19.99). The new and updated edition written by Russell T Davies and Benjamin Cook sports a new cover featuring David Tennant, Russell T Davies, and John Simm and is retitled, Doctor Who: The Writer's Tale - The Final Chapter
(Amazon US affiliate link). Included in this new edition will be never-beore published behind-the-scenes photos from David Tennant's final stories.
The book is a comprehensive and personal account of Doctor Who covering its return in 2005 with in-depth discussions with its Head Writer and Executive Producer, Russell T Davies first published to critical acclaim in September 2008. This new edition brings an additional 130,000 words, spread across thirteen new chapters.
"Life depends on change, and renewal."
Outpost Gallifrey Presents:
Doctor Who: Podshock - Episode 155
Running Time: 1:32:48
Review of the first Patrick Troughton story, Power of the Daleks, news, Mike Doran joins us for a Who Party 14 Toronto Report, and feedback including a review of Prisoner of the Daleks by Dave (Skaroth), and feedback (Jordan, Steve Lee, Samantha (Romana II), and Companion2B (Sarah)).
Mark Gatiss leads a 30 minute documentary on BBC Radio 4 exploring Doctor Who novelisations published by Target books. The audio documentary, On the Outside it Looked Like an Old Fashion Police Box is available to listen to via the BBC iPlayer (it is available outside of the UK) for the next seven days.
It features interviews with Terrence Dicks, Anneke Wills, and Russell T Davies among others, as well as audio clips from various audio book adaptations.
BBC description: