Patrick Troughton
---
Sonic Newsdriver (16 October 2010) -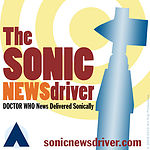 The Sonic Newsdriver 20101016
Selected Doctor Who related news delivered sonically.
For Earth-date: Saturday, the 16th of Oct. 2010

A double length show featuring breaking news of Gallifrey 22 with special guest Shaun Lyon of the Gallifrey One conventions, plus talkin' about my regeneration, don't cross the streams, born in the USA, Tennant trending, what's wrong with my voice, gossiping Gaiman, heard it was your birthday, hello? hello?, Wiiiii have a date, Who is watching you?, NYCC tops 95000, Party with Daphne Ashbrook, and more!
So after watching this DVD a couple of times a quick review. Of course I should be the one to tell you about this release, Patrick Troughton's 2nd Doctor being my favourite Doctor despite being born in the Time of Pertwee. This Story see's the Doctor land the Tardis on the Planet of Dulkis for a Vacation, on an Island that the Doctor has forgotten to check for Radiation. Meanwhile the Dominators have landed on the Island and are preparing a site for drilling supported by the Robotic Quarks.
It was a quarter of century ago today, as hard as it is for me believe, is when the Gallifreyan Embassy began. Unbeknownst at the time, it was the day after the Discovery Channel was launched. It was also the day after the launch of the space shuttle Discovery (STS-51-G) which marked the first Arab and Muslim in space (payload specialist Sultan bin Salman bin Adulaziz Al Saud). Yes, it was 1985. Ronald Reagan was in the White House, Commodore launches the Amiga personal computer while NeXT is founded by Steve Jobs after leaving Apple Computer.
Just two weeks before we went Back to the Future in the theaters, the Gallifreyan Embassy of Long Island officially began.
Here is the Special Features Listing for The Dominators:

• Audio Commentary with actors Wendy Padbury, Frazer Hines, Giles Block and Arthur Cox and make-up designer Sylvia James.
• Recharge and Equalise – cast and crew look back on the making of the story with actors Frazer Hines, Felicity Gibson, Giles Block and Arthur Cox, script editor Derrick Sherwin, co-writer Mervyn Haisman, designer Barry Newbery, make-up designer Sylvia James and Radiophonic Workshop designer Brian Hodgson.
• Tomorrow's Times – The Second Doctor – a looks at Doctor Who's contemporary media coverage in daily newspapers and other publications.
• Photo Gallery.
• Coming Soon.
• Radio Times Listings in Adobe PDF format.
• Programme subtitles.
• Subtitle Production Notes.
BBC America Facebook fan Nancy Alegria asks Doctor Who's Matt Smith, "I understand that you really liked Patrick Troughton's Doctor. Which other past Doctors will be an influence on your portrayal of the Eleventh Doctor?" Smith gives his answer here.
Today would have been Patrick Troughton's 90th Birthday, But still I say Happy Birthday Patrick. Gone but most definately not forgotton.
"One day I shall come back. Yes, I shall come back…"
Doctor Who: Podshock - Episode 172 EXTRA Edition
Running Time: 1:44:51
We review all 10 Doctor's eras of Doctor Who in this Deca-Doctor Special of Doctor Who: Podshock. As we approach the new 11th Doctor era, we review where we came from with the previous 10. Included are interviews we conducted over the years with various actors to play the Doctor (including Patrick Troughton, Jon Pertwee, Peter Davison, Colin Baker, Sylvester McCoy, Paul McGann), some of which have never been featured on Doctor Who: Podshock before.
"The Time Lords are an immensely civilised race. We can control our own environment - we can live forever, barring accidents and we have the secret of space/time travel."
Doctor Who: Podshock - Episode 158
Running Time: 1:25:16
Coverage of San Diego Comic Con 2009, Dragon*Con, The War Games reviewed, Adric the Cricket, and more..
Hosted by Louis Trapani, James Naughton and Ken Deep, with Tara Wheeler.
Louis Trapani (right) interviews Patrick Troughton (left) in 1986.
"Life depends on change, and renewal."
Outpost Gallifrey Presents:
Doctor Who: Podshock - Episode 155
Running Time: 1:32:48
Review of the first Patrick Troughton story, Power of the Daleks, news, Mike Doran joins us for a Who Party 14 Toronto Report, and feedback including a review of Prisoner of the Daleks by Dave (Skaroth), and feedback (Jordan, Steve Lee, Samantha (Romana II), and Companion2B (Sarah)).