Matt Smith
---
Doctor Who Unreleased Scene from The Eleventh Hour and Beast Below - Bridging the two episodes.
(via Twitter thanks to @tvkirby )
The moment you all been waiting for… I reveal my new costume for The Sonic Newsdriver in this latest episode released today. That and other fashion news of the Doctor Who world are covered as well as some non-fashion related DW news.
Sonic Newsdriver (26 October 2010) -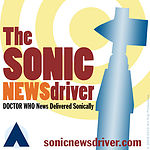 The Sonic Newsdriver 20101026
Selected Doctor Who related news delivered sonically.
For Earth-date: Tuesday, the 26th of Oct. 2010
Doctor Who related news covering Death of the Doctor, Better Late Than Never, It May Be A Mystery To You, We Will Rock Children in Need, Happy Anniversary Frazer, Fashion - Turn to the Left, Fashion - Turn to the Right, and much more!
It seems that not only 8th Doctor wants a costume change, Matt Smith (the 11th Doctor) is reported stating that he would like some changes in his costume. Specifically, a warmer coat, perhaps in addition to his tweed jacket.
As for a hat, he said he wanted a hat back in April when he was in New York for the premiere of the 2010 series of Doctor Who. So this comes as no surprise. We already know that fezzes are cool.
Television - News - Matt Smith wants 'Who' outfit changes - Digital Spy: "'I know I want a coat,' he said. 'You get cold in only a tweed jacket. And I want a hat. Not all the time. Just now and again. It feels Doctory and right for my Doctor. I think it can evolve and give it that variety.'
Matt Smith explaining how in preparing for his role as the 11th Doctor in the long running BBC series, Doctor Who that he studied quotes of Albert Einstein. Recorded at the US premiere of the 2010 series of Doctor Who at the Paley Center for Media in New York, April 2010.
Also see Karen Gillan explaining that anything is possible in Doctor Who at the same event.
Sonic Newsdriver (16 October 2010) -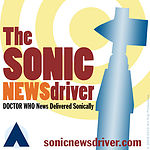 The Sonic Newsdriver 20101016
Selected Doctor Who related news delivered sonically.
For Earth-date: Saturday, the 16th of Oct. 2010

A double length show featuring breaking news of Gallifrey 22 with special guest Shaun Lyon of the Gallifrey One conventions, plus talkin' about my regeneration, don't cross the streams, born in the USA, Tennant trending, what's wrong with my voice, gossiping Gaiman, heard it was your birthday, hello? hello?, Wiiiii have a date, Who is watching you?, NYCC tops 95000, Party with Daphne Ashbrook, and more!
Watch the latest teaser 'trailer' video for series 4 of The Sarah Jane Adventures coming to the CBBC next week (11 October 2010). Along with Elisabeth Sladen and the regular cast members, you will see Matt Smith as the Doctor in it as well in this promo video.
Below is the trailer from the BBC for the Autumn winter series it has 3 Doctors (all new series Doctors at that) and the other drama Matt Smith worked on also gets a quick clip. The trailer is not region locked so enjoy. (Spoilers are minimal, showing mostly actors and nothing much else)
Watch a promo video for Doctor Who Live. It features Matt Smith as the 11th Doctor (note, Smith is not appearing in the live show himself, only via prerecorded video projected on screen presumably similar to what you see here). The other footage obviously comes from the recent Doctor Who Proms music event.
Last month Graeme Sheridan @The2ndDoctor reported on the new Doctor Who games coming for the Nintendo Wii and DS game systems. We also spoke about it in Doctor Who: Podshock 220. Now news has broken that Blue Ocean will be releasing a new Nintendo Wii remote controller device as well as a stylus and slipcases for the DS based on the 11th Doctor's sonic screwdriver.