DVD
---
One of our LA Correspondents (I can't say which just now) give me word early Monday morning of this article in the LA Times concerning the release of the Blu-ray and DVD of the latest series of Doctor Who (starring Matt Smith). We always suspected it would be November as that has been traditionally the release month of the series box sets in the past, just in time for the holiday shopping season. According to this article by from the LA Times, that date will be November 9, 2010.
In addition, they will include extra content shot for this release.
Here is the Special Features Listing for The Dominators:

• Audio Commentary with actors Wendy Padbury, Frazer Hines, Giles Block and Arthur Cox and make-up designer Sylvia James.
• Recharge and Equalise – cast and crew look back on the making of the story with actors Frazer Hines, Felicity Gibson, Giles Block and Arthur Cox, script editor Derrick Sherwin, co-writer Mervyn Haisman, designer Barry Newbery, make-up designer Sylvia James and Radiophonic Workshop designer Brian Hodgson.
• Tomorrow's Times – The Second Doctor – a looks at Doctor Who's contemporary media coverage in daily newspapers and other publications.
• Photo Gallery.
• Coming Soon.
• Radio Times Listings in Adobe PDF format.
• Programme subtitles.
• Subtitle Production Notes.
As I previously Mensioned the DVD Trailers for Revenge of the Cybermen/ Silver Nemesis and the Extra's for The Dominators had gone before the British Film Board of Classificasion.
The Release dates have now been given and the delayed release date for Time and the Rani, which had previously been Scheduled for 1st March this year.
I am a happy very man,
The BBFC have cleared extras for the DVD release of the Second Doctor story The Dominators.
This 1968 five-part story has been expected ever since an official promo for the story was leaked to YouTube at the end of last year. The story stars Patrick Troughton as the Doctor along with Frazer Hines as Jamie and Wendy Padbury as Zoe.

Extras Cleared: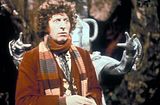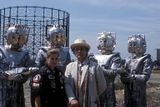 Revenge of the Cybermen and Silver Nemesis Have been cleared by the British Board of Film Classification as a Double DVD Trailer. As to when this box set will be realsed is anybody's Guess, and with Two of the most unpopular Cybermen stories of all time, one wonders what sales they will get. But that said it will be in my Pre-order list as soon as it's available, I'm somewhat of a Cyber-collector. "EXCELENT!"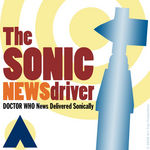 The Sonic Newsdriver 20100317
Selected Doctor Who related news delivered sonically.
For Earth-date: Wednesday, the 17th of Mar. 2010
BBC America Tails Behind BBC One by Two Weeks, Gallifrey 21 Two Weeks Out (DVD news), BBC Secures 40% of 2entertain, Double Your Pleasure, Double Your Fun with The Sarah Jane Adventures, Doctor Who on Tour, You Rock (Ken Ray of Mac OS Ken) and more.
Hosted by Louis Trapani
The Actor George Waring Died on Monday 15th Febuary fice days short of his 85th Birthday.
He was Known to Classic fans through the Partick Troughton Era Story, The Ice Warriors where he played the Scientist Arden, who Discovers an Ice Warrior burried in the Ice and unfortunately becomes the Warrior's first Victim. The Ice Warriors Story is as of yet not Available on DVD but is probibly obtainable through your Favourite Auction House on VHS.
David Tennant is featured here in one of the extras included in the Doctor Who: Complete Specials box sets coming out in 2010 (February 2 in the US) on DVD and Blu-ray.
Affiliate links: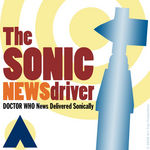 The Sonic Newsdriver 20091031
Selected Doctor Who related news delivered sonically.
For Earth-date: Saturday, the 31st of Oct. 2009 - Halloween Edition
You think things are scary now - wait two weeks, Tennant's Last Outing as the Doctor, Under Pressure, Sarah Jane Scores High, The Press is a Buzz Over Jealousy, and more.
Hosted by Louis Trapani
As previously reported, BBC America has announced its broadcast date for Waters of Mars to be Saturday, December 19, 2009 at 9pm ET/PT, more than a month after the BBC airing. (It is being transmitted on the BBC (UK) on Sunday, 15th of November 2009 at 7pm).
The remaining two specials starring David Tennant will air on BBC America over the holiday season as a two-part special. The air-dates will be announced in early December.