cast
---
Doctor Who crew and cast at the Paley Center for Media in April 2010. We were there covering the event for Doctor Who: Podshock.
(L-R) Executive Producers Beth Willis and Piers Wenger, Matt Smith (11th Doctor), Executive Producer and Lead Writer Steven Moffat, and Karen Gillan (Amy Pond).
This photograph graced the cover of Doctor Who: Podshock 192. Listen to our interviews and coverage of the event in it and Doctor Who: Podshock 193.
Photo by Louis Trapani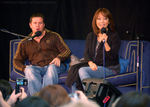 Kai Owen (Rhys Williams on Torchwood) will head up an emergency Wales charity volunteer drive for Save the Children according to a report in Walesonline.co.uk. The charity is looking for emergency workers to raise money when disaster hits such as earthquakes, typhoons, disease outbreaks, etc.
"When an emergency strikes, Save the Children leap into action so they can reach children and families caught up in a disaster as quickly as possible," Kai stated.
Left to right: Joshua Lou Friedman, Daphne Ashbrook (Grace in the 1996 Doctor Who movie), Louis Trapani, James Naughton, and Ken Deep at Gallifrey 20, Los Angeles, CA. Doctor Who: Podshock welcomed Daphne as a guest during our live on stage show.
Photo courtesy Joshua Lou Friedman, TARDIS courtesy of Tara Wheeler
Daphne Ashbrook going to see the latest Star Trek film while sporting her Doctor Who: Podshock / Gallifreyan Embassy shirt. Photo by David Vito Gregoli
Submitted by Travis Valente: Travis (in the Gallifreyan Embassy Doctor Who: Podshock shirt) along with the cast and crew members of Doctor Who while at the Gallifrey 2006 convention in L.A., California.
On the 28th of September 1986, both Colin Baker (pictured here on the left with a beard) and Tom Baker appeared together in Brooklyn, NY. Photo by Louis Trapani
Louis Trapani (right) interviews Patrick Troughton (left) in 1986. The interview appears as a cover-story for the Gallifreyan Embassy newsletter, Ambassadors of Life. Image by Louis Trapani
Paul Darrow spends some time with the Gallifreyan Embassy for an interview in 1986. Paul Darrow had played Tekker the year before in the Doctor Who story Timelash, he has since worked once again in Doctor Who in one of the Big Finish audio dramas, but he is best known for his character Kerr Avon in Blake's Seven. Image by Louis Trapani
A youngling Ken Deep (left) interviews Paul Darrow (right) in 1986. Paul Darrow had played Tekker the year before in the Doctor Who story Timelash, he has since worked once again in Doctor Who in one of the Big Finish audio dramas, but he is best known for his character Kerr Avon in Blake's Seven. Image by Louis Trapani
If the 6th Doctor wore a scarf, perhaps it may look something like this? Colin Baker sporting a long scarf (reminiscent of another Baker) at the DWFCA Doctor Who Festival, February 1985. Photo by Louis Trapani