Peter Davison
---
Earth, 2084. Two global superpowers hover on the brink of war. When the TARDIS is forced to make an unplanned visit to Sea Base Four, the Doctor (Peter Davison, The Last Detective), Tegan (Janet Fielding, Minder) and Turlough (Mark Strickson, A Christmas Carol) find themselves accused of being enemy agents.
It was a quarter of century ago today, as hard as it is for me believe, is when the Gallifreyan Embassy began. Unbeknownst at the time, it was the day after the Discovery Channel was launched. It was also the day after the launch of the space shuttle Discovery (STS-51-G) which marked the first Arab and Muslim in space (payload specialist Sultan bin Salman bin Adulaziz Al Saud). Yes, it was 1985. Ronald Reagan was in the White House, Commodore launches the Amiga personal computer while NeXT is founded by Steve Jobs after leaving Apple Computer.
Just two weeks before we went Back to the Future in the theaters, the Gallifreyan Embassy of Long Island officially began.
The following is reposted from my blog at Art Trap Productions.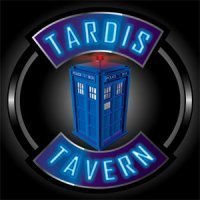 It was months in the making, but it finally happened after Gallifrey 21, I was a guest 'bartender' on the TARDIS Tavern podcast! No sooner after completing my previous post about being on Cultdom Collective podcast, word came to me via @tardistavern that The Arc of Infinity episode we recorded last week has now been released.
Join the insanity with the insanely great hosts Steve Stacy and Sean Homrig of the TARDIS Tavern as we review 20th anniversary season kick off episode, Arc of Infinity with Peter Davison as the 5th Doctor. Not only do we discuss this 1983 story, but Doctor Who in general and how I happened to come across it all those years ago.
"One day I shall come back. Yes, I shall come back…"
Doctor Who: Podshock - Episode 172 EXTRA Edition
Running Time: 1:44:51
We review all 10 Doctor's eras of Doctor Who in this Deca-Doctor Special of Doctor Who: Podshock. As we approach the new 11th Doctor era, we review where we came from with the previous 10. Included are interviews we conducted over the years with various actors to play the Doctor (including Patrick Troughton, Jon Pertwee, Peter Davison, Colin Baker, Sylvester McCoy, Paul McGann), some of which have never been featured on Doctor Who: Podshock before.
"It feels different this time."
Doctor Who: Podshock - Episode 169
Running Time: 1:44:39
The 5th Doctor's (Peter Davison) final story, The Caves of Androzani Reviewed, News (Waters of Mars, Dreamland, Gallifrey 21, Second Life, DVD), Feedback, and more.
Hosted by Ken Deep, James Naughton, and Louis Trapani, with Eric Escamilla ( @bullitt33 ).
"That's the trouble with regeneration. You never know what you're going to get."
Doctor Who: Podshock - Episode 167
Running Time: 1:20:04
Peter Davison as the 5th Doctor's first story, Castrovalva Reviewed, News, Feedback, and more.
Hosted by Ken Deep, James Naughton, and Louis Trapani.
Cover art for Doctor Who: Podshock 167 in which we review Peter Davison's first story, Castrovalva.
Gallifrey One has announced a date change for the Gallifrey 2010 convention in Los Angeles next year. Due to a hotel booking error, the annual premier North American Doctor Who convention has had to move the date of next year's Gallifrey One: Blackjack 21 back one week to February 26 - 28, 2010.
The Los Angeles Airport Marriott where the convention is being held had essentially accidentally double-booked another event in the same space. Gallifrey One agreed to move the event back a week and by doing so the hotel has reduced the cost of hotel rooms from $114 per night to $100 per night for not only the 2010 convention, but it is locked in for that price through 2013 now to $114 per night for 2010 and further down to $100 per night for 2011-2013. Thus saving money for not only 2010 convention goers, but for those attending for the next few years.
The Daily Mirror is reporting that all eleven Doctors will be coming together for a special one-off special for Children in Need this November. It reports that the 15 minute episode will be included in BBC1 annual Children In Need appeal in November and shooting of it will begin in September.
This is not the first time a rumour of this nature appeared in the tabloids. The same thing was said to be happening last year for Children in Need except with 10 Doctors which did not happen.
The article states that "images from their original shows, stretching from 1966 to 1974" will be used for the actors William Hartnell, Patrick Troughton, and Jon Pertwee who have since passed away. They will make cameo appearances through footage from these previous episodes.
Peter Davison welcomes fans in Philadelphia, PA on his 34th birthday (April 13, 1985). Photo by Louis Trapani