Blu-ray
---
Even though we are still a couple weeks away from the airing of Doctor Who: A Christmas Carol (coming to BBC (6pm) and BBC America (9pm) on the 25th of December), we already have a release date for the special on Blu-ray and DVD.
Just in time for Gallifrey 22, the special is slated for release on the 15th of February. So much for giving it as a Valentine's Day gift. Along with the special, the accompanying 'Doctor Who: Confidential' on it and 'Doctor Who at the Proms 2010' will be included as bonus material.
We can also assume that the special will be available on iTunes the day after it is shown on BBC America, so figure on it being there on Boxing Day.
"I can feel my hair curling and that can mean either that it's going to rain… or that I'm on to something."
Doctor Who: Podshock - Episode 217
Running Time: 1:57:43
Doctor Who: The Deadly Assassin reviewed, West Coast Correspondent Amy Krell joins us as we discuss the Doctor Who Proms, Adventure Games, news, rumours, our upcoming Second Life meet up, news, and more!
Hosted by Louis Trapani, Ken Deep, James Naughton, and Amy Krell.
One of our LA Correspondents (I can't say which just now) give me word early Monday morning of this article in the LA Times concerning the release of the Blu-ray and DVD of the latest series of Doctor Who (starring Matt Smith). We always suspected it would be November as that has been traditionally the release month of the series box sets in the past, just in time for the holiday shopping season. According to this article by from the LA Times, that date will be November 9, 2010.
In addition, they will include extra content shot for this release.
Last month we stated we would give a brand new unopened copy of Doctor Who: Planet of the Dead in HD on Blu-ray to randomly selected Podshock Supporting Subscriber (Planet of the Dead Blu-Ray Going to a Supporting Subscriber). We promised we would announce the winner at our seasonal meet up on Second Life on the 20th of February (Pre-Gallifrey 21 Meet Up on Second Life). We did. The subscriber we randomly selected was Ken Okel. (Ken was not present at the meet up, but we stated that you need not be present for it).
After contacting Ken, we learned that he had just bought a copy of Planet of the Dead on BD, and offered us to give the disc to another subscriber that may need it. Fortunately, we had selected a runner up just in case something like this occurred. That person is Helen Lesser!
We are giving away a copy of Doctor Who: Planet of the Dead on Blu-ray (US) to a Podshock Supporting Subscriber at our Second Life Meet Up on the 20th of February.
For more information see: Planet of the Dead Blu-Ray Going to a Supporting Subscriber
Update: The disc is going to Helen Lesser! See: Planet of the Dead Blu-Ray Goes to Helen Lesser
David Tennant is featured here in one of the extras included in the Doctor Who: Complete Specials box sets coming out in 2010 (February 2 in the US) on DVD and Blu-ray.
Affiliate links: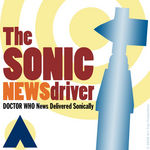 The Sonic Newsdriver 20091031
Selected Doctor Who related news delivered sonically.
For Earth-date: Saturday, the 31st of Oct. 2009 - Halloween Edition
You think things are scary now - wait two weeks, Tennant's Last Outing as the Doctor, Under Pressure, Sarah Jane Scores High, The Press is a Buzz Over Jealousy, and more.
Hosted by Louis Trapani
As previously reported, BBC America has announced its broadcast date for Waters of Mars to be Saturday, December 19, 2009 at 9pm ET/PT, more than a month after the BBC airing. (It is being transmitted on the BBC (UK) on Sunday, 15th of November 2009 at 7pm).
The remaining two specials starring David Tennant will air on BBC America over the holiday season as a two-part special. The air-dates will be announced in early December.
"I've come to help. I'm the Doctor."
Outpost Gallifrey Presents:
Doctor Who: Podshock - Episode 152
Running Time: 1:04:08
All news edition: Karen Gillan Recap, Outpost Gallifrey Closing, Gallifreyan Embassy New Website, Who Party 14 Toronto, Doctor Who/Torchwood Comes to Space in Canada, BBC America Launches HD, Planet of the Dead and Torchwood Children of Earth come to DVD/Blu-ray, 24th Anniversary Celebration, and more.