11th Doctor
---
The last couple days, Doctor Who: Podshock Correspondent, Tara Wheeler @TARDIS_Tara has been on the hunt for Matt Smith who is in the US currently shooting Doctor Who in Utah for the upcoming new 2011 series. Matt Smith also appeared on The Late Late Show with Craig Ferguson on Tuesday.
From this photo that Tara has posted to her Tumblr blog, it appears she has found what she was looking for today. Somehow I am not surprised. When Tara has a goal set in her sights, there's very little that can come between it and her. She hasn't checked in with us since as of yet and I haven't caught up with her Twitter feed yet, so I don't have the details just now, but the photo seems to have been posted about 2 hours ago.
Doctor Who Unreleased Scene from Flesh and Stone and The Vampires of Venice - Bridging the two stories. Amy gets a glimpse at past traveling companions of the Doctor.
Doctor Who Unreleased Scene from The Eleventh Hour and Beast Below - Bridging the two episodes.
(via Twitter thanks to @tvkirby )
5 Sonic Lipsticks
55% (6 votes)
4 Sonic Lipsticks
36% (4 votes)
3 Sonic Lipsticks
9% (1 vote)
2 Sonic Lipsticks
0% (0 votes)
1 Sonic Lipstick
0% (0 votes)
0 Sonic Lipsticks
0% (0 votes)
Total votes: 11
The moment you all been waiting for… I reveal my new costume for The Sonic Newsdriver in this latest episode released today. That and other fashion news of the Doctor Who world are covered as well as some non-fashion related DW news.
Sonic Newsdriver (26 October 2010) -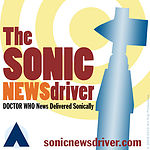 The Sonic Newsdriver 20101026
Selected Doctor Who related news delivered sonically.
For Earth-date: Tuesday, the 26th of Oct. 2010
Doctor Who related news covering Death of the Doctor, Better Late Than Never, It May Be A Mystery To You, We Will Rock Children in Need, Happy Anniversary Frazer, Fashion - Turn to the Left, Fashion - Turn to the Right, and much more!
It seems that not only 8th Doctor wants a costume change, Matt Smith (the 11th Doctor) is reported stating that he would like some changes in his costume. Specifically, a warmer coat, perhaps in addition to his tweed jacket.
As for a hat, he said he wanted a hat back in April when he was in New York for the premiere of the 2010 series of Doctor Who. So this comes as no surprise. We already know that fezzes are cool.
Television - News - Matt Smith wants 'Who' outfit changes - Digital Spy: "'I know I want a coat,' he said. 'You get cold in only a tweed jacket. And I want a hat. Not all the time. Just now and again. It feels Doctory and right for my Doctor. I think it can evolve and give it that variety.'
So this started off as a rumour on Friday, and according at least to BBC America is going to happen.
A collaboration between the BBC and BBC America sees a filming block taking part in the US, Utah to be a little more specific, according to press, the Doctor, Amy, Rory and River land in Utah, more than that I shall not reveal because it gets into major spoiler territory. Only I do have a BBC America clip for you.
Watch the latest teaser 'trailer' video for series 4 of The Sarah Jane Adventures coming to the CBBC next week (11 October 2010). Along with Elisabeth Sladen and the regular cast members, you will see Matt Smith as the Doctor in it as well in this promo video.
Below is the trailer from the BBC for the Autumn winter series it has 3 Doctors (all new series Doctors at that) and the other drama Matt Smith worked on also gets a quick clip. The trailer is not region locked so enjoy. (Spoilers are minimal, showing mostly actors and nothing much else)
"Our lives are different to anybody else's. That's the exciting thing, that nobody in the universe can do what we're doing."
Doctor Who: Podshock - Episode 221
Running Time: 1:25:46
We interview Deborah Watling (Victoria Waterfield) and director Graeme Harper, plus 2011 will bring 2 series of Doctor Who instead of 1 but no Daleks, Sylvester McCoy in The Hobbit, Live coverage from Doctor Who: Podshock's 5th anniversary celebration with Lewis Bailey (The Happiness Patrol Podcast) and Terry Lighfoot (The DirtyWhoers podcast), Gallifrey update and convention reports, Tom Baker returns again as the 4th Doctor, and more.
Hosted by Louis Trapani ( @LouisTrapani ), Ken Deep ( @kendeep ), and James Naughton ( @JamesNaughton ).