Steven Moffat
---
In a recent DWIN blog post, it quotes Steven Moffat, new series Executive Producer and Lead Writer for Doctor Who speaking of the upcoming series for the year 2010 (Matt Smith's first series as the 11th Doctor) in the latest issue of Doctor Who Monthly magazine:
"It's Series Thirty-One of Doctor Who, and it's Series One of Matt Smith's Doctor, Those are both real numbers. I submit that 'Series Five of Doctor Who' means absolutely nothing unless you really believe that Matt Smith is the third Doctor. Everyone knows he's the Eleventh Doctor so that means it's definitely not 'Series Five'. Whichever number you choose, 'Series Five' is the one that's flawed."

"'Series One' is an exciting sentence. 'Series Thirty-One' is an awe-inspiring sentence. 'Series Five' is a boring sentence - and also a complete lie."
Now that the end time has come for David Tennant as the Doctor, or rather, The End of Time, there is a new Doctor in the house, or rather TARDIS… Welcome, Matt Smith.
It is not only a change of Doctors, but with Steven Moffat taking the helm of the series as the new executive producer and lead writer, it is a whole new era for Doctor Who. Expect changes across the board to reflect it.
We have already seen the new logo(s) for the series, the new Doctor debuted in the most recent special, The End of Time, Part 2. Doctor Who Monthly magazine is sporting an updated look, and we expect the same with the BBC Doctor Who website soon as well.
Paul Cornell has a series on his blog, The 12 Blogs of Christmas this holiday season.
In the latest entry, The 12 Blogs of Christmas: Eleven. Millennium Eve he features some of his fellow Doctor Who folk… included are Russell T Davies, Steven Moffat, Gary Russell, Murray Gold, James Moran, Noel Clarke, even a familiar name from Doctor Who: Podshock is there too.
In it, we are recounting what we were doing ten years ago as we rang in the new millennium.
Actually, it is quite humbling to be sharing such company on the same page. I thank Paul, he is a lovely person and friend. As I said in my piece included in Paul's blog, take nothing for granted.
You can currently listen to Night Waves: Sacred Monsters (BBC Radio 3) which features new Doctor Who Executive Producer and Head Writer, Steven Moffat. He talks about his work on the series, Matt Smith as the new Doctor, and what we are about to see in the upcoming series.
Listen here: BBC iPlayer - Night Waves - Sacred Monsters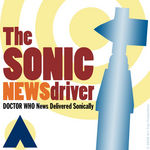 The Sonic Newsdriver 20091031
Selected Doctor Who related news delivered sonically.
For Earth-date: Saturday, the 31st of Oct. 2009 - Halloween Edition
You think things are scary now - wait two weeks, Tennant's Last Outing as the Doctor, Under Pressure, Sarah Jane Scores High, The Press is a Buzz Over Jealousy, and more.
Hosted by Louis Trapani
The BBC has revealed the latest incarnation of the Doctor Who logo on the official website ushering in a new era of Doctor Who with Matt Smith as the 11th Doctor and Steven Moffat as Executive Producer and Lead Writer.
Please Note: There will be spoilers in this blog entry if you haven't seen the UK press in the last week, or the reports out of San Diego Comic-Con.
The last week has been a fantastic time to be a Doctor Who fan - and the proof of how great this show is, could be seen in the thousands of screaming fans in San Diego yesterday morning, as the celebrated the coming end of an era - And what a ride that ending looks like its going to be. Frights on Mars with water and who knows what else, and then "The End of Time" itself, with Wilf, Donna, the Master, Timothy Dalton and the last days of Planet Earth!!!! It all looks very dark indeed! Whatever happened to Russell's promise not to scare the kids on Christmas Day??!!!!
The BBC Press Office has posted a press release concerning the start of shooting the new Doctor Who series starring Matt Smith as the 11th Doctor in Cardiff starting today through March 2010. Thirteen 45 minute episodes are being produced by BBC Wales for BBC One.
Below is the press release:
Submitted by Travis Valente: Travis (in the Gallifreyan Embassy Doctor Who: Podshock shirt) along with the cast and crew members of Doctor Who while at the Gallifrey 2006 convention in L.A., California.
Yes, I welcome its return
69% (36 votes)
No, I can't face it
31% (16 votes)
Total votes: 52
You heard it here on Doctor Who: Podshock and now you can take it with you where ever you go with shirts and other gear sporting the slogan, "In Russell We Trust" or if you rather have "In Moffat We Trust", or get them both. Many of our listeners and website visitors, took the slogan coined by Ken Deep on our show and made it their own mantra.